Including salary, bonuses, stock and options, these public company CEOs took home pay packages last year worth up to $104 million.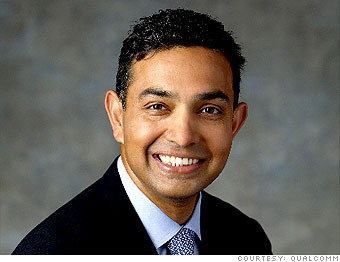 Total compensation: $104.5 million
2008 salary:
$484,615
Bonus:
$0
Perks:
$412,096
Stock grants:
$36 million
Stock options:
$67.5 million
Sanjay Jha joined Motorola in August, lured away from rival Qualcomm to try to shore up Motorola's struggling mobile phone business. Since then, the company has run through several rounds of job cuts as it prepares for a spin-off of its handset division.
Jha's co-CEO at Motorola, Gregory Brown, had a 2008 pay package that totaled $24.2 million. But both men will see their salaries shrink in 2009: As Motorola froze employee salaries and retirement-plan contributions in December, its CEOs said they would cut their own salaries by 25%.

NEXT: 2. Larry Ellison, CEO of Oracle

Last updated April 06 2009: 1:16 PM ET
Email
|
Print
|

Digg this story
|

RSS
Source:
Equilar Inc
., an information services firm that specializes in researching executive compensation, used corporate filings to calculate pay data for 200 top executives at public companies with annual revenue of approximately $6.3 billion or higher. To be included in the study, a company must be incorporated in the U.S. and have filed a proxy by March 27.
Stock and option award values are taken from the Grants of Plan-Based Awards table in each company's proxy filing. Whenever grant-date values are not provided, Equilar values these grants using widely accepted methodologies. In the case of options, the Black-Scholes method is used.
Grant-date values represent an estimate of the value of new stock and option awards. Although companies disclose these values, there is no guarantee that executives will actually realize these amounts. They may earn more or less, depending on the movement of stock prices.