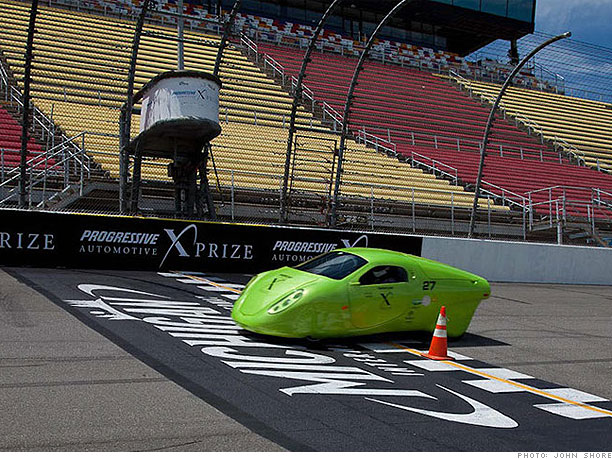 Team from: Mooresville, N.C.
Class: Side-by-Side
Prize: $2.5 million
Fuel: Electricity
Fuel economy: 187 MPGe
Vehicles in this category seated two people side-by-side, as the category implies. They also had to go at least 100 miles before needing to refuel or recharge.
The winner, in this case, drew on the advantage of electric motors: their much greater efficiency compared to internal combustion engines. Electric motors turn nearly all the energy fed into them into motion. Gasoline engines turn only about 30% of gasoline's energy into motion while most ends up wasted as heat.
This car got 187 MPGe, or miles per gallon equivalent. In other words, it can go 187 miles on the same amount of energy as that contained in one gallon of gasoline.
This Wave II also minimized one big disadvantage of electric drive: weight. Gasoline contains much more energy per cubic foot than batteries, so electric car batteries end up being big and heavy compared to a tank of gasoline. In this case, the car itself, built largely from aluminum, is so light that it all adds up to only 2,176 pounds total. That's less than a tiny Smart car.
Still, the Wave II takes almost 15 seconds to reach 60 miles an hour, good enough to win here but downright pokey by most standards.

NEXT: X-Tracer Team Switzerland's E-Tracer No. 79

Last updated September 17 2010: 2:48 PM ET