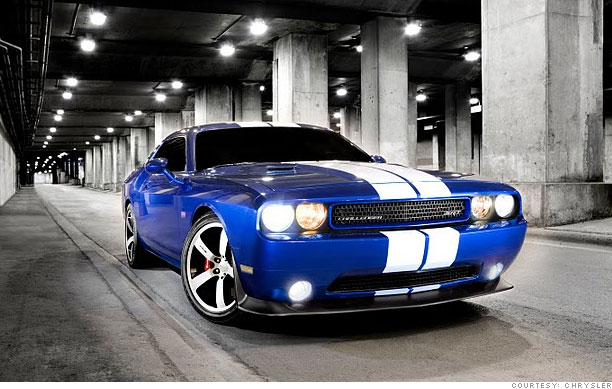 A rarity at the SEMA show, the Challenger SRT8 392 is a car you'll be able to buy as-is at your Dodge dealer. Chrysler Group will produce a limited run of 1,492 Inaugural Edition models with special interior and exterior appointments.
The name comes from the 2011 Challenger's new 392 cubic inch, or 6.4-liter, engine. The displacement figure recalls an engine Chrysler first introduced in the late 1950s. The modern version produces up to 470 horsepower, an improvement over today's 425-horsepower Challenger SRT8.
Inside, a new electronic information display in the gauge cluster provides instant feedback on 0-60 times, 60-0 mph braking, G-forces as well as eighth-mile and quarter-mile times. The inaugural run of 392's will be available in only two colors. You can get white with blue stripes or, as seen here, blue with white stripes.
NEXT: Hyundai Rhys Millen Racing Equus
Last updated November 04 2010: 5:39 AM ET