Residents who live in these 25 growing towns see their incomes go the furthest.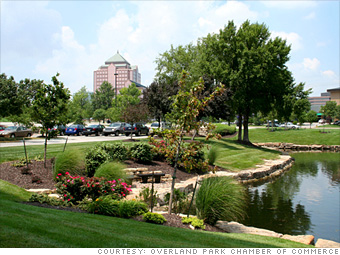 Median home price: $200,000
Median family income (per year): $107,240
Overland Park is the second largest city in Kansas -- right in the thick of the Kansas City metro area scrum -- and it has a history of being included in "best places" lists.
For its size, the city has a disproportionate number of Fortune 500 company headquarters, which contributes to high median income. The quality of life is high, with good schools and low crime.
But those advantages have not knocked prices off kilter. Plenty of nice, three-bedroom homes are on the market for less than $200,000.
See complete data and interactive map for Overland Park
NEXT: Joliet, IL
Last updated July 13 2010: 5:16 PM ET