Bethesda, Md., residents pull in more than $170,000 a year. Which other places in our Best Places database have high incomes?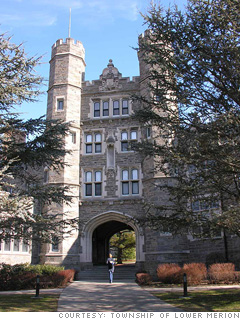 Population: 56,789
Median family income (per year): $144,686
Median home price: $240,000
Located along the Main Line of the historic Pennsylvania Railroad, Lower Merion has long been a refuge from city life for the well-heeled. In the mid-19th century, railroad scions, merchant magnates and metal and oil industry tycoons began erecting grand homes throughout the area.
Some of the sprawling estates, from Georgian-inspired mansions to Scottish-infused castles, still stand. But McMansions, condos and townhomes now dot the landscape to house today's professionals.

See complete data and interactive map for Lower Merion

NEXT: Newton, MA

Last updated July 14 2010: 11:43 AM ET