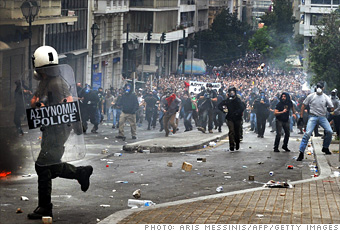 The situation:
Massive riots paralyzed Athens in May, after the cash-strapped and debt-ridden Greek government announced austerity measures would be imposed on the population. The mayhem appeared to climax with the fire-bombing of a bank that killed three employees, including a pregnant woman.
Financial hit: While no official estimate of the financial impact is available, it is certain to affect an economy where tourism accounts for about 15% of Greece's gross domestic product.
The response: The turmoil is over, at least for now. "The recent protests in Athens against the economic crisis, and the austerity measures taken by the Government were limited both in time and space," said Polyxeni Mastroperrou, spokeswoman for the Permanent Mission of Peace to the U.N. "They occurred only in the center of the capital and didn't last long."
The reality: The Aegean islands -- including Crete, Santorini and Mykonos -- were left unscathed. Lonely Planet travel editor Robert Reid says there is "no sign" of any trouble that would disrupt "a complete paradise vacation in the Greek islands." And with a relatively weak euro, this might be a great opportunity for U.S. travelers.

NEXT

Last updated June 18 2010: 12:14 PM ET