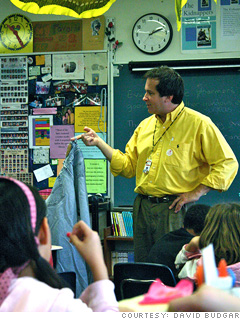 David Budgar teaches fifth and sixth grade at Quest Elementary School in Hilton, N.Y.
Grade taught: Fifth and sixth
School: Quest Elementary
Amount spent: $1500
"I get almost $1,000 from my district to buy books and supplies, but I usually spend an additional $1,500 a year on other reading materials and items that are not directly related to their education, but I feel still benefit my students.
I like to have magazines that are targeted toward kids for my students to read, so I have subscription to Time for Kids and other weekly magazines. I also buy a couple of big ticket items every year. Recently I bought a new color printer that was compatible with the students' computers, and bean bag chairs for them to sit on.
I don't have kids of my own, and teaching is one way I enrich my life, so sometimes I'm a little bit impulsive. If I'm at the market and see a fruit I think my students haven't tried before, I'll buy some and share it with them.
I think the classroom atmosphere has to be a fun and inviting because students spend a lot of time here." -- as told to Hibah Yousuf

NEXT: Leah Luke

Last updated August 24 2010: 5:45 AM ET