There are plenty of obstacles along the route to retirement. These three couples found strategic ways to get around theirs.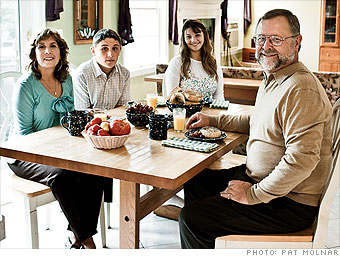 Laura Liebeck and William Smith, 53 and 59, live with their two children in upstate New York. She is a freelance writer; he is a human resources trainer.
Name: Laura Liebeck and William Smith
Location: Wappingers Falls, N.Y.
Nest egg: $95,000
$190,000
PROBLEM: Smith was laid off from an HR director position in 2007, and Liebeck, who's self-employed, lost half her income in the recession.
Smith found a new job, but their income is still down 40%. Scrambling to pay bills, they can't afford to save. "We'd love retirement to be a possibility," Liebeck says, "but I just don't see it."
SOLUTION: The couple should refinance their 15-year, 5.25% mortgage, $29,000 HELOC, and a loan for their daughter's college into a 30-year loan, says Montrose, N.Y., financial adviser Maureen Whelan.
This will save $1,000 a month, which they can stash for retirement. Doing that, they'll have $475,000 by the time Smith is 67, Whelan says. Plus, they'll have enough home equity to sell and buy a smaller house with cash.

NEXT: Roadblock: A mortgage

Last updated September 29 2010: 10:55 AM ET