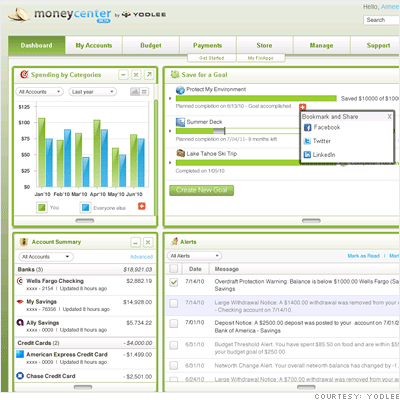 Company: Yodlee
Location: Redwood City, Calif.
Founded: 1999
You probably haven't heard of Yodlee, but you've almost certainly used it.

Yodlee knows who you owe money, what stock you just added to your portfolio and where you buy groceries.

The company is a financial data aggregation powerhouse, gathering information from more than 200 financial institutions and redistributing it to an array of portals and partner sites.
When you register at a site like Mint.com -- a personal finance portal and one of Yodlee's customers -- you can choose to pull in information from dozens of different accounts, but Mint.com isn't the one digging up that financial data. Yodlee is.

Yodlee has toiled quietly in the background for years. The company is now coming out of the shadows, packaging up its platform with a fancier user interface and creating a new app store it hopes partners will plug into.
The under-development Yodlee FinApp Store is drawing notice from some heavy hitters, including tax preparer H&R Block, which is working on an app.
More galleries
Last updated October 13 2010: 7:19 PM ET