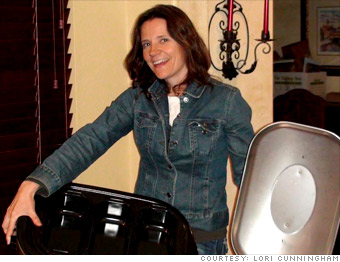 Lori Cunningham, with her roaster, in Los Angeles.
Lori Cunningham
Yes, I will wait in the cold for hours. I love the thrill of the deal and I'm waiting to chase it, but I draw the line at spending the night. I have young children and it's not worth it for me. Nonetheless, I'll be there, out in the cold, with everyone else. There's such an excitement to it -- I feel like a maverick rushing from store to store to score the big deal.
Secret strategy: This year I'm packing something new to take with me on my one day Black Friday adventure -- a collapsible cart to help me carry my treasures.
Ultimate score: A couple of years ago I got a big roaster with three pan inserts at Kohl's. I was so excited that I got one of the last ones. I don't remember the price, but it was something like $39 for a $85 roaster.
NEXT: The divide and conquer approach
Last updated November 23 2010: 1:01 PM ET