Anesthesiologists take home a median $290,000 salary annually. What other great careers from Money and PayScale.com's list of Best Jobs in America offer big paychecks?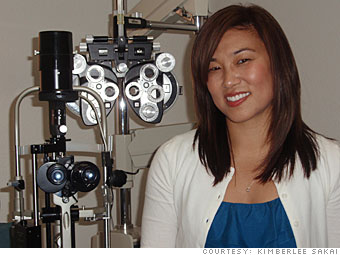 Kimberlee Sakai, 30, is an optometrist at Galt Family Optometric Center in Galt, Calif.
Median pay: $108,000
Top pay: $163,000
Optometrists care for our eyes -- diagnosing vision problems, measuring color perception and testing our ability to focus. These doctors spend as much time in school as M.D.s -- and their specialized knowledge allows them to charge high fees for their services. But the rewards are more than just monetary.
"Every day I have the opportunity to meet and talk with so many people. Every person has an interesting story. I like getting to know them over time and seeing how their families grow and change," says Kimberlee Sakai, an optometrist in Galt, Calif.
"To me, eight years of higher education and a year of residency have all been worth it," she adds. "I tried other jobs after college and finally found a job that I love. All of this schooling has also allowed me to live in places I never thought I would, like Tokyo and Philadelphia."

More galleries

Last updated October 11 2010: 8:13 AM ET
Source: All pay data from
PayScale.com
Note
: We looked at jobs from the top 100 with the highest top pay. Median salary is for an experienced worker (at least two to seven years in field). Top pay represents the 90th percentile.