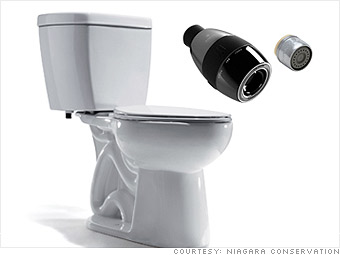 This revolutionary commode is water-saving, quiet and clean.
Company:
Niagara Conservation
Price:
About $300
When available:
Now
This commode uses just eight-tenths of a gallon per flush and doesn't make the loud swooshing sounds other low-flow toilets do. Plus, it has a the kind of wide "water spot" that's popular with consumers because it cuts down on, well, skid marks.
It's particularly timely given that California water suppliers are under a mandate to cut per capita water use by 20% by 2020, according to Manucher Alemi, the Water Use Efficiency Program Director for the state's Department of Water Resources.
"In 2011, suppliers have to start to report what they plan to do to reach that goal," he said.
The state wants to limit water use to less than 1.3 gallons per flush, according to Bill Cutler, president of Niagara Conservation, which makes the Stealth. His company is more than ready to hit that standard, using 50% less than that.
Cutler claims that it will render dual-flush toilets obsolete. Those give people the choice of a low-flow (about .9 gallon) or a high-flow (1.6 gallon) flush.
"The savings are voluntary," he said, "and most people flush the big flush all the time."
Homeowners can order the Stealth directly through Niagara and, shortly, at HomeDepot.com and Lowes.com.
NEXT: Power roofs
Last updated September 08 2010: 5:19 PM ET