Your post-work years are a time to improve your golf game, take up a new hobby, or just enjoy a well-deserved break. In these great college towns, you can expand your intellectual horizons too.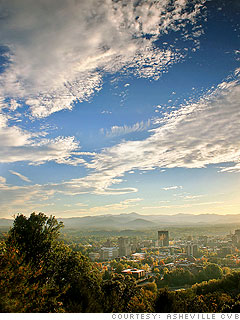 Population: 74,543
% over 50: 37%
Median home price: $189,000
State income tax: 7.75%*
Tucked in the Blue Ridge Mountains of Western North Carolina, Asheville is perhaps best known for Biltmore, an 8,000-acre estate built by George Vanderbilt beginning in the late 19th century. This architectural opus was an enormous undertaking that created a cottage industry of artists, craftsmen and master gardeners -- a tradition that lives on in Asheville's galleries, gardens and stately old homes.
While the city is surprisingly cosmopolitan, it embraces such simple pleasures as locally grown food, bluegrass music, folksy festivals. The North Carolina Center for Creative Retirement at the University of North Carolina, meanwhile, is a hub for seniors looking to volunteer in the community or take workshops in everything from Shakespeare to social networking. There's plenty to see, do and explore -- and, best of all, you don't need to have the last name Vanderbilt to afford a home here.

See complete data and interactive map for Asheville

NEXT: Duluth, MN

Last updated October 06 2010: 4:55 PM ET