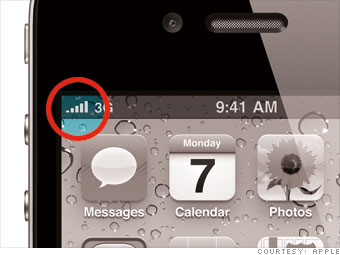 As reports of reception problems poured in, Apple came back with a shocking response: The company said that the cause of the dramatic drop in bars users sometimes see is a software glitch dating
all the way back
to the original iPhone. For almost three years now, the iPhone has been occasionally displaying two more signal bars than it should.
In an open letter to customers, Apple said it was "surprised when we read reports of reception problems," and that "upon investigation, we were stunned to find that the formula we use to calculate how many bars of signal strength to display is totally wrong."
But how surprised was Apple, really? In a review of the iPhone 4 published two days before the phone went on sale, the Wall Street Journal's Walt Mossberg said he noticed the iPhone 4 suffered from signal problems. He reported that Apple told him "that this is a bug it plans to fix, and that it has to do with the way the bars are presented, not the actual ability to make a call."
Apple on Thursday released a
free software upgrade
to address the glitch.
NEXT: Proximity sensor: The cheeky hang-up
Last updated July 16 2010: 3:08 PM ET