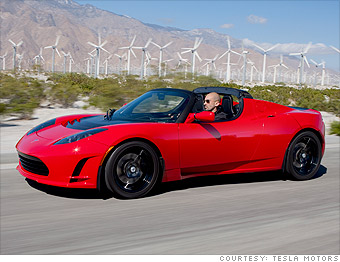 Investment: At least $931 million in equity investments and loans
PayPal founder Elon Musk's seven-year-old auto company made a name for itself with the stunning Roadster electric car, which has a range of about 245 miles per charge and goes from zero to 60 miles per hour in just 3.7 seconds. But with a $100,000 price tag, the Roadster was more of a "collector's item" than a business strategy, Musk admitted. The automaker sold just 1,100.
For the mass audience, Tesla is banking on its more reasonably priced sedan, the Model S. The automaker plans on selling the Model S for $50,000 starting in 2012, and by 2013 it aims to produce 20,000 cars a year.
But that's going to be tricky. By Tesla's own admission, the Model S has just one operable prototype and no final design or manufacturing process. The company also has not completed its purchase of the plant in which it plans to make the new car.
As a result, Tesla's timetable for bringing the Model S to market may be a reach.
"Most experienced automakers race to put a car together in three years," said Angus MacKenzie, editor of
Motor Trend
magazine. "I can't see Tesla making more than a handful of these -- if any -- in 2012."
That would delay Tesla's ability to turn a profit. Elon Musk poured much of his personal fortune into the company, which raised at least $200 million from private investors and got a $465 million loan backed by the the Department of Energy. Tesla's IPO in June netted the company
another $266 million
from investors.
It was a badly needed cash infusion: Tesla has lost nearly $300 million since its inception. Until the Model S goes on sale, Tesla said it will continue to pile up hefty losses.

NEXT: Better Place

Last updated August 26 2010: 12:40 PM ET