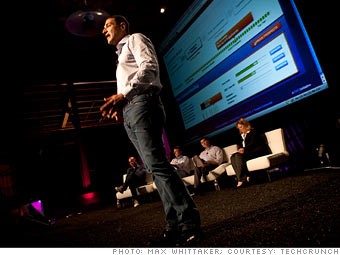 Gild, by Pac Labs
Headquarters: San Francisco
Founded: April 2003
Raised: $10 million
"We add a game layer to [fill in the blank]" was a theme running through Disrupt's startup pitches. Gild brings that to the job hunt, offering candidates -- mainly programmers -- contests and puzzles designed to show off their coding skills and creativity.
The site is free for job hunters, and offers some flashy prizes to those who emerge victorious from its challenges. Right now, Harrah's casino is sponsoring a free two-night stay in Las Vegas for the winner of a Java knowledge quiz, for example.
The fun and games have a serious purpose: Employers want better tools than just resumes for scouting talent. Pac Labs has spent the past seven years chipping away at that problem. "Our idea was all about 'how can we use scientific methods to improve the process of screening candidates for tech jobs," says CEO Sheeroy Desai. "So that was the first couple of years -- all offline pen-and-paper stuff."The company's clients include Oracle, SAP and Hewlett-Packard. Gild, which launched in beta in May and now has 60,000 registered users, makes its money by charging employers for access to its talent pool. Early customers include Salesforce.com, PayPal and Sapient.

NEXT: Learning languages the natural way

Last updated September 30 2010: 2:31 PM ET