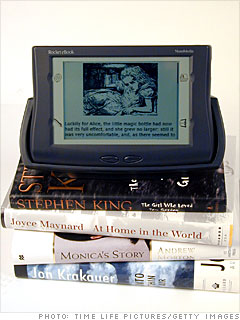 The Rocket eBook was the early leader in a nascent field.
NuvoMedia Rocket eBook
Launched: 1998
Launch price: $500
Think Kindle-vs-Nook is a heated battle? The first round of the E-Reader Wars was fought back in 1998, when the NuvoMedia Rocketbook went head-to-head with the EB Dedicated Reader and SoftBook Press's SoftBook.
The Rocketbook weighed in at 1.25 pounds and had 4 MB of Flash memory -- enough to hold 4,000 pages worth of material. The Pro version had 16 MB of Flash memory and could hold about 40 books. Modern e-readers typically hold thousands.
The Rocketbook was a full pound lighter than its most serious rival, the SoftBook, which could hold 100,000 pages. It went for $600 -- or $300 if you also subscribed to a $20-a-month "content package."
Alas, the e-readers of yore were an idea ahead of their time.
The Rocketbook "did almost everything the Kindle does, except for wireless downloads, though it was also thicker and heavier," Gregory T. Huang wrote in Xconomy in September. "But there was not enough of a market for such a device at the time, and it was discontinued after five years."
The SoftBook also died early. Media company Gemstar scooped up SoftBook Press and NuvoMedia, but in 2003 it pulled the plug.
NEXT: A Sony breakthrough
Last updated October 26 2010: 6:22 PM ET