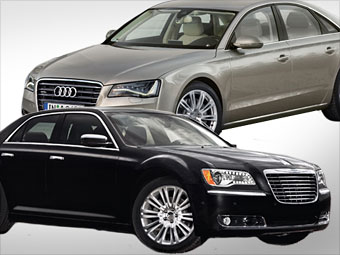 Make no mistake, either of these vehicles is a pleasure to drive and probably great to own. They're both smooth, powerful, sophisticated and ridiculously comfortable. Both have gorgeous exteriors; but the Audi wins in the prestige category by a wide margin.
Chrysler's second generation of the 300 is superior to the one it replaces, and -- if you care little about prestige -- offers an eminently reasonable alternative to any of the big German or Japanese luxury cruisers.
The 300C comes with a 5.7-liter Hemi engine and lots of electronic gadgets such as touch-screen controls and a blind-spot warning. It's also quiet and smooth. At $40,000, the 300C costs about half as much as the Audi. The Audi is unarguably a fine automobile -- but would you really hate driving a 300C while having to decide how to blow the $40,000 you saved?
NEXT: Ford Taurus Ltd. vs. Toyota Avalon Ltd.
Last updated February 24 2011: 12:00 PM ET