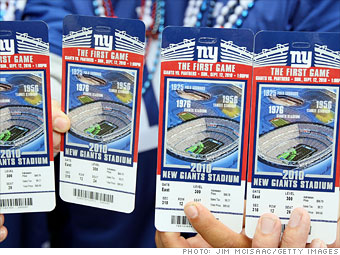 In 2010 more than 17 million fans passed through NFL turnstiles, paying anywhere from $54.51 (Browns) to $117.84 (Patriots) for the average game ticket. Though the league won't open its books, numbers for the publicly-held Packers offer some insight into what teams reap at the ticket office and concession stands.

The Packers reaped $13 million from concessions, parking and local media in 2010, which figures to about $416 million NFL-wide.

In 2010, Green Bay cleared $60 million from home and away game tickets plus private boxes. Projected over 32 teams, that's close to $2 billion.

Attendance at Packers games dropped 0.81% from 2009 to 2010.
NEXT: Halo effect
Last updated March 09 2011: 12:45 PM ET