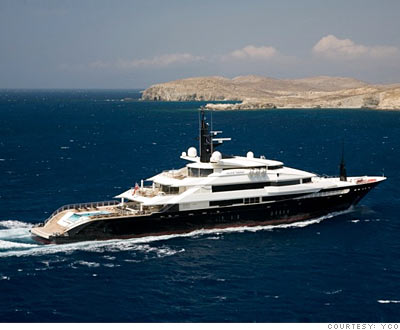 Price tag: $1.1 million/week
Often used as a celebrity and CEO getaway, YCO's Alfa Nero yacht is also available to those who aren't bold-faced names -- for a hefty fee. Those who can afford the indulgence can cruise in style from Santorini to St. Tropez.
The 270-foot superyacht comes fully equipped with a 28-member crew prepared to meet every need, whether that's an "in" at hotspot Avenue 31 in Monte Carlo or a helicopter on request.
Many, however, may not choose to do anything other than enjoy the beach club, screening room and swimming pool all on board.
NEXT: Rent an island
Last updated February 14 2011: 12:19 PM ET