These three families are on their way to becoming millionaires. How are they doing it -- and how can you?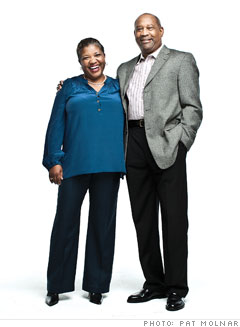 Karen and Ron Shinault, of Lilburn, Ga., have a business with more than $1 million in sales.
Name: Karen and Ron Shinault, 58
Current portfolio: $660,000
Income: $160,000
Annual savings: $35,000
Time to $1 million: 4 years
What they're doing: When the Shinaults went into business for themselves in the late '80s, they hoped that doing so would help them to send their two kids to college and retire comfortably. But Ron also wanted more growth than he had in his job doing logistics for a medical manufacturer. "My fast track had reached its slowdown mode," he says.
Starting Cosh Healthcare, which sells medical and lab equipment to universities and government agencies, involved risks: Ron quit his job, and they took out a second mortgage. But they hedged those bets by moving from Chicago to cheaper Atlanta; Karen kept her sales job at AT&T for a while, and Ron delayed taking a salary until the business got on its feet.
Thanks to their derring-do, they've sent their kids to college without debt and saved vigorously for retirement (more, Karen notes, than they could have in the corporate world). Building a profitable business, they say, is as simple as meeting buyers' needs. "If you do that part right, the millions will come," adds Ron.
How you can get to a million with a business: There is something to the idea that successful business owners can get to $1 million faster than Joe Corporate can.
Although just 12% of U.S. households own businesses, they represent 37% of those in the highest decile for income, the Ewing Marion Kauffman Foundation found; their median net worth was $497,000, vs. $42,000 for non-business owners.
On the other hand, government data show that only 51% of businesses with employees that started in 2000 survived at least five years. To be the success story, focus on ideas that ...
1. ... have low overhead. Your best bets in midlife are businesses that don't require big investments of time or money, says Len Schlesinger, president of Babson College, a top-ranked school for entrepreneurship: "Age 59 is not the time to take 35% of your net worth and put it into a restaurant."
2. ... are scale-able. Since the real money comes from selling business, look for an idea with big growth potential -- meaning it could be expanded or cloned -- that can go on without your future involvement, says Carol Roth, author of The Entrepreneur Equation.
More galleries
Last updated March 23 2011: 12:41 PM ET