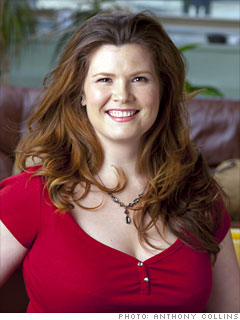 Then: Advertising account executive
Now: Associate director of marketing at a nonprofit
Originally from the Midwest, Amelia Heape started in 1998 at SpotCo, an entertainment advertising company in New York that specializes in theatre. She was a senior account executive there, but left in 2002 to teach yoga.
In 2003, SpotCo asked her back to coordinate their move to new, much larger offices. Soon enough, Heape was an account exec again for SpotCo and stayed put until 2006.
Heape then spent two years selling advertising space for a company called TheaterMania. She left, and in 2009 made her way onto a recurring dating segment on FOX called The 90-Day Love Challenge. But she soon felt she was done with New York.
Heape called the five or six people that could help her make a change. "I wasn't just going to move to L.A. without any kind of job," she says.
She applied for a job in 2009 with Center Theatre Group, one of the largest nonprofit theatres in the country, and is now their associate director of marketing. She is in charge of digital ad buying and manages a social networking team. In addition to marketing each production, she works with the education department to offer perks, such as special tickets to high school students.
"My job now is exactly where I belong, though the work is so different," Heape says. "I have a vision for myself and the organization, something I was never able to have at an agency. Now I'm in a nonprofit world. We have a real mission."
NEXT: Renee Hampton, 49
Last updated February 07 2011: 5:38 PM ET