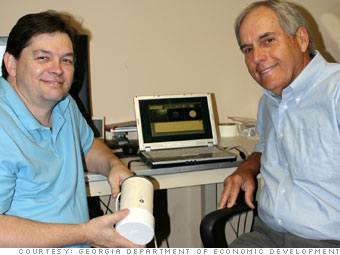 Glen Rains, (r.), and Joe Lewis train wasps to sniff out bedbugs.
Company: The Wasp Hound
Location: Tifton, Ga.
Most people have heard of bedbug-sniffing dogs. But bedbug-sniffing wasps?
Glen Rains and Joe Lewis, both Ph.Ds, have been able to train stingers-free wasps to detect bedbugs. The wasps, which are in a container, swarm to the center of it whenever they detect the odor of the bloodsucking creatures. They call their prototype the Wasp Hound.
Rains, an associate professor at the University of Georgia, and Lewis, a retired research entomologist, created the prototype in 2004 with graduate student Sam Utley and the help of the Georgia Department of Economic Development.
The professors want to sell their product to the military, homeland security, the Centers for Disease Control and Prevention, as well as other places.
The insects could give bedbug-sniffing dogs a run for their money, because they cost less to train and are more efficient at detecting bedbugs, Rains said.
The biggest obstacle is money. Right now they need half a million dollars to get their company SmartHound Technologies, LLC, off the ground.
But that might come sooner rather than later as the bedbug problem intensifies.
NEXT: An all-natural bedbug pesticide