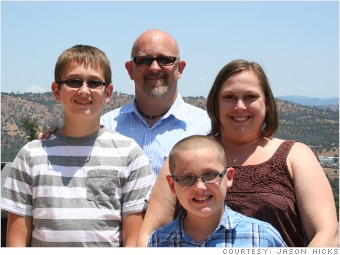 Name

: Jason and Autumn Hicks

City

: Turlock, Calif.
For Jason Hicks, just keeping his two boys, ages 10 and 13, clothed feels like a struggle.
"They grow out of clothes quicker than they can wear them," said Hicks, who works as a department manager at the Turlock Irrigation District.
To keep the clothing bill from devouring the family's budget, Taylor and his wife often shop for their whole family at discount stores like TJ Maxx and Target.
Related: Average cost to raise a kid: $241,080
They also limit each son to one extracurricular activity. In this case, it's mixed martial arts, which costs about $1,200 a year for the two boys. If they participated in other sports, such as soccer or football, it would easily cost hundreds more a year, said Hicks.
"Not only do we make sacrifices, but we put limitations on how we raise our kids," Hicks said.