Rio de Janeiro vs. Puerto Vallarta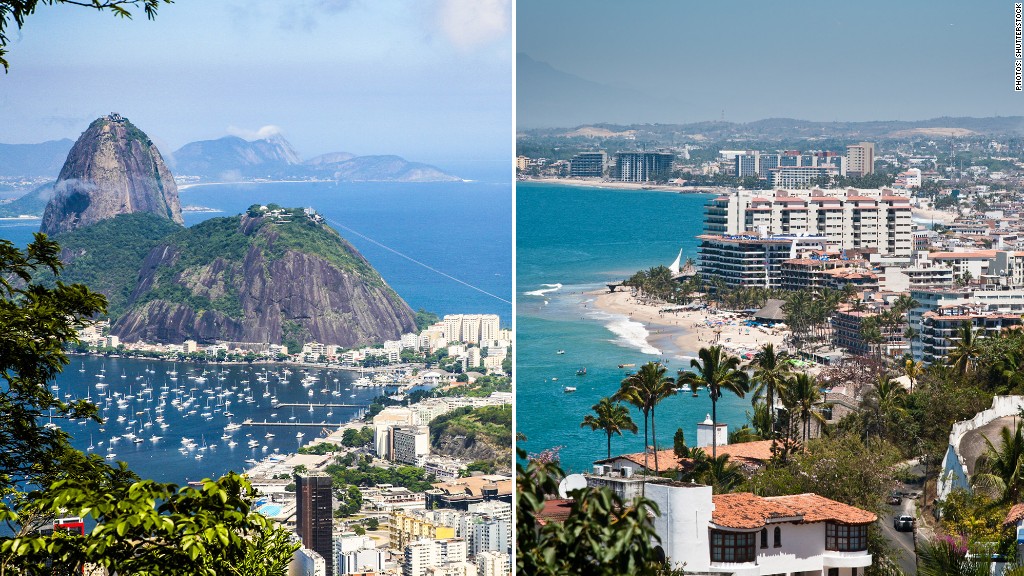 Rio boasts one of the world's most beautiful urban settings, offering Sugarloaf Mountain, and the famed Copacabana and Ipanema beaches, as well as its lively clubs and festivals. For American travelers, though, it's a long, expensive plane ride.
Puerto Vallarta, is a much less expensive alternative to Rio. The once quiet fishing village turned mid-sized resort city occupies a deep indentation of Mexico's Pacific Coast, where hills slope down to palm tree-lined shores. The nightlife may not be quite as lively as Rio's, but the city is calm and relatively safe. Best of all, it's a short hop from the United States, which saves on time and airfare.
With news reports of violent crime in Mexico scaring some tourists away, room prices have been very low in Puerto Vallarta, according to Hotwire.com's experts. Package deals can be very attractive.
Splurge
Rio de Janeiro
What you'll pay*: $3,700 (round-trip airfare, plus 7 nights at a 4-star hotel for two)
Steal
Puerto Vallarta
What you'll pay: $1,800 (round-trip airfare, plus 7 nights at a 4-star hotel for two)
First published February 13, 2014: 6:29 PM ET
*Note: Trip costs were based round-trip airfare from Chicago for the week of May 24th through May 31st and stays at a four-star hotel, as reported by Expedia and Hotwire.com.

Partner Offers
Paid Partner