NEW YORK (CNN/Money) - Even Mickey Mouse's job is on the line.
That was the word last month when Walt Disney announced it was going to lay off as many as 5,000 part-time employees. Meanwhile, Disney also has imposed a hiring freeze at its popular Florida resorts.
What's to become of Mickey and his pals? Well, if they do get pink slips they'll have plenty of company. Last year, 53 percent of employers cut staff, according to a study by Watson Wyatt.
Joblessness on the rise

It's difficult to tell if things are stabilizing. Nine percent of employers nationwide plan to cut staff in the second quarter of the year, though 22 percent hope to add to their payrolls, according to Manpower International. But recent unemployment reports indicate that more individuals are out of work, and the pace of new hiring is skittish.
"Every company will do selective hiring for newly created positions or a position that opens up," said Laura Sejen, national practice director for strategic rewards at Watson Wyatt. "But my sense is they're not going to business school campuses and hiring whole waves of graduates like they used to."
Here's what's going on:
Government jobs
Forget what you've heard about cushy government jobs. These days, public sector employees are leading the way in layoffs. In fact, public employees, and those in non-profit gigs, lost 41,559 jobs nationwide last month, according to the most recent layoff survey by Challenger, Gray & Christmas. That's more than any other sector.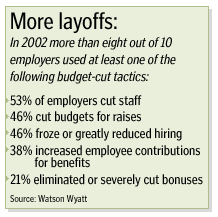 For workers, especially those in state government, the culprit boils down to massive deficits. Nearly every state is in a financial crisis, noted the National Association of State Budget Officers in its most recent survey of state finances (released last November). "As states fight to balance their budgets, the solutions available to them are increasingly dire."
When NASBO surveyed states last fall on the health of their finances for the coming year, 10 states said that they'd lay off staff for the fiscal year 2003 -- which began July 1, 2002 and runs until June 30, 2003. Meanwhile, 11 states would offer retirement packages and work furloughs to trim costs.
NASBO expects more layoffs, furloughs and retirement deals to follow. "For the most part, you have to assume state governments are just not hiring," said NASBO Executive Director Scott Pattison. "When someone retires, vacancies are not necessarily being filled, either."
Turbulence for airline employees
Meanwhile, tourism and travel industries aren't doing well. If the economy continues to limp along, or if war or terrorism fears keep people at home, things aren't likely to get better soon.
CNNfn's Kathleen Hays takes a closer look at why new claims for unemployment benefits are at their highest levels.


Play video


(QuickTime, Real or Windows Media)
Airlines, not surprisingly, have been particularly hard hit. Sure, cheap-fare upstarts like Jet Blue and Southwest are flying high. But two of the once-mighty Big 6 major U.S. carriers are in bankruptcy, and the others are teetering. Some 100,000 jobs have been cut since 9/11, and the future looks turbulent. This year, airlines will lose about $5 billion, predicts Ray Neidl, an airline analyst at Blaylock & Partners.
Employees such as machinists, pilots and flight attendants are feeling the pain. They fret about pay cuts, as well as pink slips. At United Airlines, for example, pilots recently agreed to salary cuts from 2.7 percent to as much as 10.7 percent. Northwest just asked its pilots not only to take agree to pay cuts of more than 17 percent but also to forfeit any pay raises until 2006.
Technology
Meanwhile, battered industries like telecom and technology may have seen the worst of the cuts. But it would be a mistake to think that the days of mass layoffs have ended. Agilent Technologies, the maker of scientific equipment, for example, recently announced layoffs of 4,000. And Worldcom has announced cuts of 5,000.
At the same time, companies that had been able to avoid layoffs, are now feeling the pressure to trim staff. Micron Technology, a computer chip maker based in Boise, Idaho, recently announced it was laying off workers -- 1,800 people, or about 10 percent of its workforce -- for the first time since 1985.
"This time it was unavoidable," said Micron spokesman Bob Clark. "The majority of the downturns in this cyclical business don't last this long."
Real estate
It's not all gloom and doom. Real estate-related jobs continue to offer work opportunities, thanks to the hordes of individuals buying and building homes, refinancing mortgages and tapping into home equity loans.
Take the case of HomeLoanCenter.com, an online mortgage bank based in Irvine, California. In the past seven months, the number of employees has mushroomed from six staffers to more than 200 and will probably add another 150 workers as homeowners and buyers continue to cash in on low interest rates and buy homes or refinance mortgages.
"We're bringing in everyone: human resources people, sales, home equity specialists, marketing, loan specialists, processors and loan funders," said Jason Jepson, company spokesman. "We just hired a new vice president of business development, a new director of the web site and a new director of home equity divisions."
Not all mortgage banks are staffing up as quickly as HomeLoanCenter, of course. But in January, some 4,000 mortgage bankers and brokers found jobs, according to the Bureau of Labor Statistics.
Health care
As usual, health care jobs for nurses, pharmacists, radiologists, lab technicians and others are available, and eight out of 10 health care employers report they have trouble attracting and retaining skilled workers.
In many cases, employers can't offer fat salaries to attract workers. So recruiting efforts need to be creative and flexible, as well.
New York Presbyterian Hospital, for example, has launched a battery of programs to boost its ranks. Last year, it sent care packages to roughly 50 nursing schools with tote bags, t-shirts, a guide to living in New York and the book, Love Greg and Lauren, the true story about how Lauren Manning recuperated at NY Presbyterian after she was burned over most of her body during the Sept. 11 attacks at the World Trade Center.
Soon, the hospital was receiving calls from the nursing schools, inviting its recruiters to speak to students. The hospital also gives tours and talks to high school students who may be interested in health care fields.
"We need people to go into health care," says Peg Brubaker, vice president human resources support services at NY Presbyterian. "Many nurses we've talked to have said they wanted technology. One of the things health care has is a lot of cutting-edge technology and we can sell that."