LOS ANGELES (CNN/Money) - Oracle Corp. said Thursday that it has extended its tender offer for shares of PeopleSoft Inc. until July 18.
The offer, under which Oracle (ORCL: Research, Estimates) would acquire its smaller rival in a $6.2 billion hostile takeover, had been scheduled to expire July 7. Although PeopleSoft's board has formally rejected the bid, Oracle can take the deal directly to PeopleSoft shareholders since it is a cash offer.
The database software titan raised its bid for PeopleSoft from $16 a share to $19.50 a share on June 18. But in light of PeopleSoft's announcement Wednesday that its second-quarter earnings will be better than expected, it appears that PeopleSoft is now in the driver's seat.
Patrick Mason, an analyst with Pacific Growth Equities, wrote in a report that Oracle will need to raise its offer again due to PeopleSoft's solid quarter. If Oracle does not do so, PeopleSoft will likely complete its friendly $1.75 billion merger with J.D. Edwards (JDEC: Research, Estimates), which would then make a deal for PeopleSoft more expensive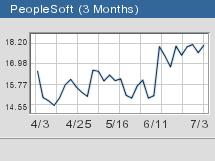 Oracle downplayed PeopleSoft's results, saying that the company was able to post better-than-expected sales due to "gimmicks" such as PeopleSoft's customer protection program, which would entitle businesses to a money-back guarantee if PeopleSoft (PSFT: Research, Estimates) were to be acquired by another company.
But there are other obstacles that could derail Oracle's bid, including increasing concerns about antitrust regulations and PeopleSoft's so-called poison pill, a takeover defense that allows a company to issue more shares in order to make an acquisition more expensive.
Oracle has sued PeopleSoft, and the two companies were originally supposed to have a hearing in a Delaware court July 16. But the hearing, in which a Delaware judge would consider Oracle's request that PeopleSoft be required to scrap its poison pill, was postponed until July 25.
Oracle said in a statement that as of the close of the business day on July 3, approximately 34.75 million PeopleSoft shares had been tendered and not withdrawn from the offer.

---
--Reuters contributed to this report