NEW YORK (CNN/Money) - If you believe in value investing, then there's absolutely no reason to think shares of Amazon.com will continue to surge through the end of this year.
The stock is up 145 percent this year and trades at 81.3 times 2003 earnings estimates (and even that lofty multiple may be understated since it is based on pro forma earnings estimates, which exclude things like compensation expenses and amortization of goodwill).
I consider myself one of those aforementioned followers of the value school. And that's why it is with a great degree of reluctance that I write the following sentence: Amazon (AMZN: Research, Estimates) will finish the year higher than it is now.
Sure, this may sound dangerously like the bubble-induced logic of the late 1990's, but history, not to mention momentum, is on Amazon's side.
The numbers don't lie.
Seasonal swing
Shares of Amazon have enjoyed a nice pop in the last four months of the year for four of the past five years.
In 1998, the year that Henry Blodget (remember him?) announced his now infamous $400 price target, shares of Amazon.com surged 283 percent from September to the end of the year.
The stock posted a 22 percent gain in the last third of 1999.
The stock fell 63 percent in the last four months of 2000. But in that period of 2001 and 2002, two down years for the market (and techs in particular), Amazon gained 21 percent and 31 percent, respectively.
"It's hard to see the stock pulling back in the fall even though the valuation is very high," said Safa Rashtchy, an analyst with US Bancorp Piper Jaffray.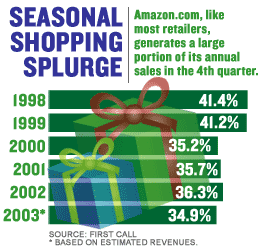 What's at work here is what I like to call the "No-duh" phenomenon. Any day now, we will start to see waves of stories about how much holiday shopping will be done online and that Amazon is the prime beneficiary.
To that, I say, "No duh."
It should be obvious by now that Amazon will have a big fourth quarter. Over the past five years, approximately 38 percent of Amazon's total sales for the year have come in the fourth quarter.
Amazon is a retailer...and that's a good thing
But this time around, Amazon may benefit from more than just the usual uptick in consumer spending. The overall economy appears to be picking up and retailers like Wal-Mart, Target and Sears reported last week that August sales were higher than expected.
Add to this the fact that Amazon has been topping Wall Street's forecasts even as estimates continue to rise and it's tough to bet against the stock in the near-term.
Recently in Tech Biz

"Amazon has been consistently beating sales and earnings estimates and the stock should respond to overall macroeconomic trends," said Dan Geiman, an analyst with McAdams Wright Ragen, a Seattle-based brokerage firm.
Even one short seller of the stock admits that investor excitement about the prospects of a solid fourth quarter could lift the stock even higher in the short term. "Business is smoking," concedes Ethan McAfee, an analyst with Capital Crossover Partners, a hedge fund that is shorting Amazon.
McAfee said his firm is shorting Amazon due to concerns about the stock's valuation and the belief that revenue growth expectations for the fourth quarter might be a bit too high. Analysts are predicting sales of $1.8 billion, up 24 percent from a year ago. But he does think the economy is improving, which bodes well for retail stocks in general.
And that leads to the final reason why Amazon should head higher. The big criticism that most Amazon skeptics (me included) have had is that it should be viewed more like a retailer and less like a technology stock.
If you follow that dictum, that's one more reason to expect shares of Amazon to keep climbing. For four of the past five years, shares of three of the biggest retailers -- Wal-Mart (WMT: Research, Estimates), Target (TGT: Research, Estimates) and Kohl's (KSS: Research, Estimates) -- have rallied in the last four months of the year.
I'm not going to pull a Blodget and slap some triple-digit price target on the stock (although lost in the criticism of his stock picks is the fact that Amazon did hit his near-term target) but I'm willing to say that it will probably be anything but a blue Christmas for Amazon investors.
Analysts quoted in this story do not own shares of Amazon.com and their firms have no investment banking relationship with the company.
---
Sign up to receive the Tech Biz column by e-mail.
Plus, see more tech commentary and get the latest tech news.