BEND, Ore. (CNN/Money) - Mortgage rates are still attractive. But rates around 6 percent are off-limits to you, and for just one reason: Your credit stinks.
Your credit score, or FICO score, is a rating created by Fair Isaac to boil down all of that information in your credit report into three digits, ranging from 300 to 800. Lenders rely heavily on these scores to quickly tell them how likely potential borrowers are to pay back their loans on time.
The higher the score the better -- the lower the risk to the lender and the lower your interest rate.
"If you have good credit, you're in the driver's seat," said Keith Gumbinger, a vice president for HSH Associates, explaining that anyone with a score above 700 is considered to have solid credit.
It's quite another story, however, once your score falls below 620, which is what most lenders consider sub prime and is where roughly a quarter of the country falls.
Recently, borrowers with a credit score of 720 and above could qualify for a 30-year fixed loan with a 5.9 percent rate. Those with a credit score of 560 to 619 would pay 8.53 percent for the same loan.
"Your score means everything," said Chris Viale, general manager of Cambridge Credit Counseling. "You could easily be paying hundreds of dollars a month more in interest because of your score."
What's in a score?
When you take out any kind of credit that information is reported to the three major credit bureaus -- Equifax, Experian and TransUnion. As long as you've had one line of credit open for at least six months and one line of credit that has been updated within the past six months, you have a credit score.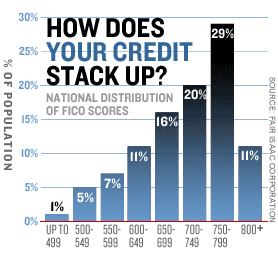 Because each of the three credit bureaus maintains an individual report for you, you actually have three scores. They should be similar, as they're calculated with the same Fair Isaac formula. (If they're drastically different, it's probably because of an error.)
Your score is affected by a number of things, including your payment history and how much you owe, among other things.
Making the grade
Under the Fair Credit Reporting Act, you can request a free copy of your credit report from all three of credit bureaus if you've been denied credit. If you want to see your credit score, however, you'll have to pay for it.
The only site where you can access credit scores from all three bureaus is myFICO.com, which is run by Fair Isaac. It's $12.95 per score, and you'll get an explanation of how your score is likely to affect your credit, information about what is helping and hurting your score and a snapshot of your credit history. (For $39.95 you get all three, as well as your full-blown credit history.)
Real Estate Resources

Make sure to check for errors, because "90 percent of all credit reports have errors," said Viale.
Some errors are obvious -- such as an account that doesn't belong to you -- while others are less easy to pick out. (I checked my own score and found that the credit limit on my home equity line was $30,000 less than it really is, making it look like I'm near my limit when I'm not even close.)
Next, see if you can consolidate some accounts or transfer balances on accounts where you're near the limit. For example, if you have several department store credit cards near their max, you might benefit by moving all three balances to a low-interest credit card with a higher limit, said Viale, noting that this could improve your score by as much as 30 points.
YOUR E-MAIL ALERTS

Follow the news that matters to you.

Create your own

alert to be notified on topics you're interested in.

Or, visit

Popular Alerts

for suggestions.
It also behooves you to makes sure that dormant accounts are formally closed. "Too many accounts can hurt your credit score," said Viale. "Start by closing the accounts you've had for the least amount of time because the length of your credit history also affects your score."
Of course, the biggest improvement to your score will come with time and responsible credit management.
"Most consumers' scores will change by no more than 20 points every six months," said Craig Watts, consumer affairs manager for Fair Isaac.