NEW YORK (CNN/Money) - Remember Blaster, Nachi and SoBig? Those computer worms caused a lot of headaches for computer users back in August and early September.
If you were unlucky enough to have a PC infected by one or more of these bugs, you probably weren't too thrilled...unless you also happened to be fortunate enough to own shares of anti-virus software companies Symantec and Network Associates.
Both stocks are up nearly 40 percent since Friday, Aug. 8. (Blaster first surfaced on Aug. 11.) The bet that investors seemed to be making is that the onslaught of several major worms during the calendar third quarter would translate into higher sales and earnings for Symantec and Network Associates, which sell the Norton and McAfee lines of software.
Well, this week it's time to see if investors bet right. Symantec will report results for its fiscal second quarter (which ended in September) on Wednesday after the closing bell, and Network Associates is due to release its third-quarter results Thursday morning.
Stronger consumer presence good for Symantec
As it turns out, Symantec may very well justify its strong run by posting strong numbers, but the same probably can't be said for Network Associates.
In fact, analysts have not changed their earnings estimates for Network Associates (NET: Research, Estimates) since early August, despite all the worms. The First Call consensus estimate for the latest quarter remains 11 cents per share, and for the year, analysts are predicting earnings of 55 cents a share.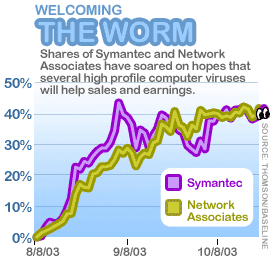 But estimates have been raised for Symantec (SYMC: Research, Estimates). Back on Aug. 8, analysts were forecasting earnings per share of 42 cents for the fiscal second quarter and $1.97 for all of fiscal 2004. Now analysts expect earnings of 45 cents a share for the quarter and $2.02 for the year.
Rob Owens, an analyst with Pacific Crest Securities, says the reason for this is that the outbreak of several computer worms did not appear to cause a major increase in security spending by big businesses. And the corporate market is more crucial to Network Associates than Symantec.
In its fiscal first quarter (which ended in June), nearly 43 percent of Symantec's total revenue was from sales of consumer software while just 14 percent of Network Associates' revenue came from retail sales in its second quarter.
Symantec is also enjoying a rarity in the world of technology these days: pricing power. The company raised its subscription renewal rates for consumer software products in September. Network Associates, with more of a corporate focus, doesn't have that luxury.
"Network Associates doesn't have anywhere near the consumer exposure that Symantec does, and there is not as much pricing power with enterprise customers," said Michael Anderegg, an analyst with Moors & Cabot.
Symantec more stable but both stocks are pricey
In addition, Network Associates has had a much rockier time during the past few years than Symantec, with a history of earnings misses as well as some accounting concerns. The company restated results from 1998, 1999 and 2000 following an investigation by the Securities and Exchange Commission and Department of Justice.
Related stories

With this in mind, one portfolio manager said that even though both companies should benefit from increased spending on security software, he owns Symantec but not Network Associates.
"The two companies are similar, but Symantec has been a more consistent performer. I just do not have a high degree of confidence in Network Associates," said Kent Mergler, president of Northstar Capital Management, which runs the Fremont Large Cap Growth fund.
Along those lines, the fact that Symantec is reporting its numbers first could hurt Network Associates. It will be incredibly tough for Network Associates to outshine Symantec, even if it does have a solid quarter.
"Investors tend to compare one to the other and invariably that comparison is not favorable for Network Associates," said Nitsan Hargil, an analyst with Friedman Billings Ramsey.
YOUR E-MAIL ALERTS

Follow the news that matters to you.

Create your own

alert to be notified on topics you're interested in.

Or, visit

Popular Alerts

for suggestions.
Still, investors now probably have to be more wary of both stocks. Hargil said he's a bit concerned that the companies won't want to set the bar too high going forward. After all, the benefits from the viruses in the third quarter were not exactly factored in going into the quarter, and the companies are unlikely to predict more worm attacks.
"Expectations are very high for both companies and it does worry me," said Hargil. "After having relatively good quarters, the companies will probably want to be conservative."
This could be a problem since the stocks have run up so dramatically in such a period of time. Neither is cheap. Network Associates trades at 23 times 2004 earnings estimates, and Symantec trades at nearly 30 times fiscal 2004 earnings estimates.
"Security is hot and the market is affording these stocks pretty healthy multiples," said Anderegg.

---
Analysts quoted in this story do not own shares of Symantec or Network Associates mentioned and their firms have no investment banking relationships with the companies.