NEW YORK (CNN/Money) - Need more proof that investors are getting too excited about the prospects for tech stocks? Look no further than the three leading Internet stocks out of China.
Sohu.com, which will report its third quarter earnings late Thursday evening, is up 414 percent year to date. Meanwhile, Netease.com and Sina, which will report their latest results next week, are up 425 percent and 487 percent.
On the surface, there is good reason for investor ebullience. At the market's low point in October 2002, all three stocks, which trade in the U.S. on the Nasdaq, were less than $2 a share, and investors worried the profitless companies wouldn't survive.
Now all three are profitable and they are, after all, catering to the largest market in the world, one where Internet penetration is relatively low and has seemingly endless room for growth.
Only two analysts follow the stocks but for what it's worth, they are predicting that third quarter revenues for Netease.com (NTES: Research, Estimates) will more than double from a year ago. Sohu.com (SOHU: Research, Estimates) and Sina (SINA: Research, Estimates) are expected to post revenue gains of 189 percent and 300 percent, respectively.
Runups are ridiculous
Still, aren't the runs in the stocks just a little much? "I have a hard time saying that a stock that has gone up 20-fold is still a buy," said Ethan McAfee, an Internet analyst with hedge fund firm Capital Crossover Partners, which has no position in any of the stocks.
One fund manager who owns all three stocks said he's been selling the shares in recent weeks. The manager, Steven Tuen, co-manager of the Kinetics Internet fund, said he will probably sell more given the huge moves they've made.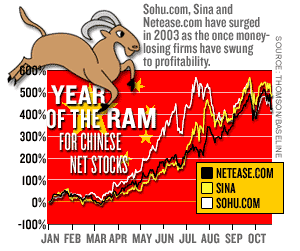 "The expectations are built up so high that anything less than perfection will cause the stocks to fall," said Tuen, who first bought the stocks about six months ago.
Earnings reports this week and next will almost certainly seem strong. But the market is already pricing in boffo growth.
More worrisome is that even though these three are invariably described as being Internet "portals" (a word that I thought was laid to rest after the dot-com crash...guess not), it's a stretch to call any of them the equivalent of a Chinese Yahoo!.
Cell phone companies could squeeze profits
While Yahoo! (YHOO: Research, Estimates) still gets the bulk of its sales from Internet advertising, which is beginning to boom again, Sina, Sohu.com and Netease.com derive most of their revenue from providing Chinese cell phone users with subscription content and services -- things like short messaging, ring tones and games.
Recently in Tech Biz

That makes them different animals than U.S. Internet stocks.
And it should be a concern since it means that these three companies are dependent on the whims of the two major Chinese cell phone companies, China Unicom (CHU: Research, Estimates) and China Mobile (CHL: Research, Estimates).
Sina, Sohu.com and Netease.com share revenues with the carriers and the three are benefiting from explosive growth in the wireless market in China.
But once contracts are up, these companies might find it hard to get revenue-sharing agreements that are as agreeable. "The cell phone companies will have the power to renegotiate contracts and ask for more favorable terms," said McAfee.
Sohu's contract with China Unicom, for example, expires in March and various contracts with China Mobile expire between November and May, according to the company's latest quarterly filing with the SEC.
Tuen said that this is yet another reason he's selling. Plus, he doesn't think the individual investors that are continuing to buy the stock really understand what the long-term risks are.
"Short messaging services has been the driver of the growth for these companies and I'm not sure if the average investor realizes this," said Tuen. "They see an Internet company that recently turned profitable and that's been enough ammo to bid the stocks higher."
Stop the presses! Is it really possible that the pros may have gotten in these stocks early and are looking to cash out before things head south, with the average investor left holding the bag? That can't happen again, can it?
You bet it can.
---
Sign up to receive the Tech Biz column by e-mail.
Plus, see more tech commentary and get the latest tech news.