BEND, Ore. (CNN/Money) – At first glance, Sean Dolan, 40, and Shelly Hawk, 38, don't seem like the kind of people who would worry about their net worth.
He's an artist; she's an idealist. But when it comes to finances, the Princeton, N.J., couple couldn't be more practical.
"My job is like painting in three dimensions," said Sean, a freelance lighting designer who helps corporate production companies turn sales meetings and product launches into major theatrical events.
Shelly, meanwhile, works 25 hours a week as a fundraiser for a nonprofit environmental group.
"People are a little surprised that I'm as organized as I am," said Sean, who downloads the couple's accounts to his Quicken software every day. Last year, his accountant even offered to lower his annual fee because he was embarrassed by how much of the work Sean was doing himself.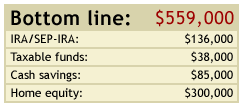 Though she teases Sean about his obsession with Quicken, Shelly and her husband share a common philosophy when it comes to money. They don't buy anything unless there's money in the bank to pay for it. They prefer to spend more for quality even if it means waiting to buy. They shop locally whenever possible, and they discuss buying anything that costs more than $100.
When the opportunity comes up, they try to instill these values in their six-year-old son, Elliott. "I'll give him $5 to spend at Target," said Shelly. "It takes him an hour and a half to find something in his budget."
By keeping close tabs on their spending, saving 20 percent of their income and making gradual improvements to their house, the couple has built a net worth of about $550,000 without having to give up much in the way of lifestyle.
Moreover, they've done this with an income that is modest for their area. Depending on business in a given year, Sean earns between $75,000 and $100,000. Shelly's nonprofit job pays just $15,000, though it provides the family with health insurance.
Other than a $140,000 loan for their "Brady Bunch" style home and a zero-interest $5,600 loan on their Ford Focus station wagon, the couple has no debt.
"Neither of us has wealthy parents who are going to leave us a nest egg," said Sean, who jokes that "self preservation" is their primary motivation for saving.
Safety net
Sean's discipline has proven essential for his work as an independent contractor. "I've always kept an emergency fund," said Sean, who works out of a home office. When business for corporate events dropped off in 2001, he went eight months without work.
More Millionaire profiles

"We started running the numbers to see what we could cut, but we really didn't have to change much," said Sean, explaining that they used about half of their $80,000 emergency fund during that stretch. "I had friends in the same boat who were one payment from losing their house."
Now that Sean is working regularly again, the couple has built up their contingency fund to $85,000. They're saving the maximum amount they can in their IRAs, which have a combined balance of $136,000. They are also contributing $2,000 a year to Elliott's Education IRA, which now at $5,500.
Most of couple's wealth is tied up in their house, a 1,600 square foot split-level home in a good neighborhood in Princeton. Sean bought the house in 1995 for $200,000, before he met Shelly. Today, it's valued at $440,000.
"We dream about completely changing the house with an addition or modernizing it," said Shelly.
Instead they're doing it a little at a time. Every year, they budget $5,000 for home improvements, such as new windows, and energy efficient heating and air conditioning. "We really spend a lot of time shopping around for the right stuff," said Sean.
In November, the couple paid off their first mortgage and refinanced the remaining $140,000 balance with a 15-year home equity loan. "That way, we had very low closing costs," said Sean, who hopes to own the house outright around the same time Elliott goes to college.
YOUR E-MAIL ALERTS

Follow the news that matters to you.

Create your own

alert to be notified on topics you're interested in.

Or, visit

Popular Alerts

for suggestions.
Though Sean doesn't think he'll retire from lighting design for at least another 20 years, he and Shelly talk about turning their shared hobby -- gardening -- into a second career as landscape designers. Over the past five years, the couple has been transforming their yard into an English garden.
"Gardening is another creative outlet for me," said Sean. And it's a practical one.