NEW YORK (CNN/Money) - U.S. payrolls grew in February at a far slower pace than the prior month, the government said Friday, in a report that disappointed Wall Street expectations for the fourth month in a row.
The persistent weakness in the labor market means the Federal Reserve will probably hold interest rates at the lowest level in more than 40 years for longer than expected.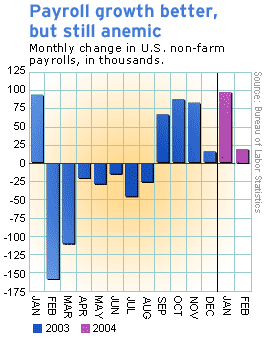 But that weakness has also led to the slowest pace of wage growth for workers in 18 years, the longest average unemployment duration in 20 years and could step up the pressure on President Bush as he runs for re-election.
Payrolls outside the farm sector grew by just 21,000 jobs in February, the Labor Department reported, compared with a downwardly revised gain of 97,000 in January. The unemployment rate held steady at 5.6 percent.
Economists, on average, had expected 125,000 new jobs and unemployment at 5.6 percent, according to Briefing.com.
"This is a terrible number," said Sung Won Sohn, chief economist at Wells Fargo. "The economic recovery is almost three years old, and the economy should be producing 200,000 to 300,000 jobs per month."
On Wall Street, stock prices fell initially but turned up later in the morning, as traders looked forward to lower interest rates. Meanwhile prices soared in the bond market, pushing the yield on the 10-year Treasury down to 3.84 percent, the lowest in eight months. Bond prices and yields move in opposite directions.
Related stories

The nation has lost about 2.35 million jobs since March 2001, when the last recession began, marking the longest stretch of labor market weakness since the Labor Department started keeping track in 1939. More than 700,000 of those jobs have disappeared since the recession ended in November 2001.
Job woes could hurt Bush's bid for re-election. He has promised that tax cuts passed during his administration would create millions of jobs, but that prediction has not yet come true despite stronger economic growth.
"At this rate, the Bush administration won't create its first job for more than 10 years," Sen. John Kerry, D-Mass., the likely Democratic nominee for president, said in a statement.
Labor Secretary Elaine Chao comments on the latest employment numbers and on outsourcing.


Play video


(Real or Windows Media)
Labor Secretary Elaine Chao, in an interview with CNNfn, pointed to the stable unemployment rate as a hopeful sign. But she acknowledged that the Bush administration was "concerned" about job growth and suggested U.S. workers needed retraining to prepare themselves for other jobs.
She also declined to stand by the administration's earlier forecast that it would create about 320,000 jobs a month this year.
"That was a Council of Economic Advisers report, by one agency in the federal government," she said, adding, "I'm not an economist."
Fed on hold; offshoring could take the blame
Slow job growth will also probably delay any interest-rate hike by the Fed, the nation's central bank, whose target for the fed funds rate, a key overnight bank lending rate, is currently 1 percent, the lowest level in more than 40 years.
Heading 
Heading 
Number of unemployed 
8.2 million 
Change in labor force 
down 392,000 
Labor force participation rate 
65.9 percent, lowest since 1988 
Number of discouraged workers 
484,000 
Average unemployment duration 
20.3 weeks, highest since 1984 
Percent unemployed 27 weeks 
22.9, near highest since 1983 
"The Fed's not seeing any wage pressure, and with sluggish job creation, I don't see how they can possilbly raise rates until mid-2005," said Richard Yamarone, director of economic research at Argus Research -- who made possibly the lowest payroll forecast on Wall Street after listening to the quarterly earnings conference calls of 207 companies, few of which said they were hiring.
Many economists believe that the robust, technology-driven productivity gains of the past several months will cool off this year and that businesses will need to hire more workers to keep up with demand. But that increased hiring is still a hope, not a reality.
"Businesses seem to be doing everything they can to increase profits without increasing hiring," said Bill Cheney, chief economist at John Hancock Financial Services. "Unfortunately for the labor market, they appear to be quite successful."
Some observers -- including politicians on the right and the left -- believe a trend towards offshore outsourcing is also crippling the labor market.
Most economists believe the impact of offshoring is small, but it's a growing trend, and weak payroll reports such as Friday's will likely add to the political pressure to enact measures to stop the flow of jobs overseas. The Joint Economic Committee held a hearing on the matter Friday morning.
In any event, some economists doubt consistent employment gains of 200,000 or 300,000 per month are coming any time soon, believing that health-care and other labor costs are discouraging new hiring.
"Firms are still very reluctant to hire," said Scott Brown, chief economist at Raymond James & Associates. "I'm looking at gains approaching 120,000 or 140,000 per month by the end of the year, which is barely enough to keep pace with [labor force] growth."
Wage growth still weak; could it hurt the economy?
In its report, the department said service industries such as education and health care added just 46,000 jobs in February.
Temporary help payrolls rose by 32,000. Typically, temp hiring is a sign employers are gearing up to make permanent hires. But temp payrolls have grown by 215,000 jobs since last April and little job growth has followed.
Construction industries cut 24,000 jobs, the first such loss since February 2003, likely related to bad weather in parts of the country in early February.
Manufacturing shed 3,000 jobs, the 43rd straight month of falling factory payrolls. The sector has lost 3.3 million jobs since early 1998, and many of those jobs are never coming back, having been moved overseas or made obsolete by technological improvements.
On the bright side, average hourly wages rose 3 cents, or 0.2 percent, to $15.52. Wage growth is crucial for consumer spending, which fuels two-thirds of the economy. But average hourly wages have grown just 1.6 percent in the past year, the lowest level since 1986.
"In principle, rapid productivity should make wages rise, but it seems that until the job market tightens up a bit, all the productivity gains flow to corporate profits," Cheney of John Hancock Financial Services said.
Few economists, if any, believe the labor market is weak enough to trigger a recession. After all, higher corporate profits -- driven in part by job cuts -- have improved stock prices and household wealth. But if the pain lingers much longer, it could increase the chances that the economy's growth rate will slow down later this year.
"Unless the labor market gains some steam and momentum, both real income and confidence of consumers would be hurt," said Sohn of Wells Fargo.