NEW YORK (CNN/Money) – For college-bound high-school seniors, early spring is nail-biting season as they wonder: Which schools will accept me? And will I get into my first choice?
The season is fraught with nervousness for parents, too, as they review the financial aid packages that accompany admission letters. Where, you wonder, can I realistically afford to send my child? Which school is really offering the best package and can I get more from the school my son or daughter wants to attend?
Keep in mind, the best financial aid package is not necessarily the largest aid package, since aid awards include not only grant and scholarship money (which you never have to repay), but also loans and work-study programs.
The best package is the one in which you have to pay the least out of pocket and where you and your child have to borrow the least to finance school.
Since different schools may assess financial need differently, aid packages can vary widely for the same student. If your child's top pick doesn't offer you as much aid as other comparable colleges, you may be able to get a better deal -- if you play it right.
Getting to "Yes, we can give you more"
To get more aid, you need to know how the game works.
Most schools won't admit they'll consider competing offers as a factor in reassessing aid packages. According to a 2001 survey by the National Association of Student Financial Aid Administrators (NASFAA), only 2 percent of schools surveyed owned up to changing aid awards based on packages offered by other institutions.
In fact, a better offer from a competitor very well may influence a school's decision, if they really want your son or daughter as a student. This is mostly the case for private schools, which tend to have much greater latitude in how grant and scholarship money is awarded than state universities, which tend to have less grant money to give and less control over how it's distributed.
Kalman Chany, president of Campus Consultants and coauthor of "Paying for College Without Going Broke," usually doesn't advise his clients to use a competing offer as the sole reason for appealing an aid decision.
RELATED ARTICLES

You are more likely to succeed, he said, if you can first show that your financial circumstance has changed since you filed the aid application; that the aid office misread the information you sent; or that you made a mistake filling out the aid forms.
Even if you don't have a more favorable aid offer from another school, these factors are most likely to get the attention of the financial aid office. According to the NASFAA survey, 40 percent of four-year private schools and 32 percent of four-year public schools said they were willing to make changes in an aid package based on new information.
But the biggest key to success, whatever your circumstance, Chany stressed, is to understand how a school determines your expected family contribution (EFC). That way you can best highlight how your circumstances differ from the norm or why they're worthy of reconsideration.
Keep in mind, too, that the aid process is "a business transaction," Chany said. "They're rationing the money out to meet the college's needs and get the kids they want to get."
A large number of schools "engage in financial aid leveraging," he said. "They try to determine how little aid they can give you and still close the sale."
How to seal the deal
The first step in the negotiation process is to contact the school's financial aid office. (The phone may be your best bet, unless the school has specified how appeals should be made.)
But don't call until you've compared all the offers your child has received since it's better to make your request with all the necessary information in hand. (Here's an example of a comparison spreadsheet from NASFAA.)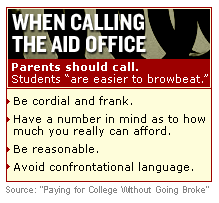 In any case, wait a few days after receiving an acceptance letter from a school before calling its aid office, since typically it's swamped right after offers are sent out, Chany said.
Once you have a contact in the aid office, "be somewhat discreet," Chany advised. "Don't scream, 'Show me the money!'" And, he added, don't treat the aid officer like a used car salesman just waiting to haggle.
A better approach would be to say that your child is very interested in attending but financing is a concern and you're a little confused how the school arrived at its decision given x, y and z about your circumstance. Only then might you mention that other schools were able to offer you more and ask politely if there's any chance the school could improve on its offer, Chany said.
At that point, it's likely you'll be asked to send a letter with documentation to back up your request.
Skip the desperate bit
When you write, make it short and sweet. "You'll get more with a McLetter than with 'War and Peace,'" Chany said. "Focus on the main reason for why you need more money ... why your situation doesn't fit into the (school's EFC) formula."
Documentation from third parties is particularly helpful. For example, a letter from your employer might be in order if you're claiming lower compensation than originally reported due to reduced overtime or a loss of benefits.
YOUR E-MAIL ALERTS

Follow the news that matters to you.

Create your own

alert to be notified on topics you're interested in.

Or, visit

Popular Alerts

for suggestions.
In addition, you'll want to attach copies of more favorable aid offers from other schools.
At no time – either on the phone or in writing – should you indicate that your child will accept a school's offer of admission regardless of the aid officer's decision.
"The more they figure you're desperate to attend, the less likely it is they will improve your package, because they figure you'll go anyway," Chany said.