NEW YORK (CNN/Money) - For Microsoft, it's judgment day.
The European Union officially announced it is fining Microsoft $611.8 million for antitrust violations and proposed sanctions harsher than those that Microsoft agreed to when it settled its antitrust case with the U.S. government in 2001 -- requiring it to offer a version of its Windows operating system without Windows Media Player within 90 days.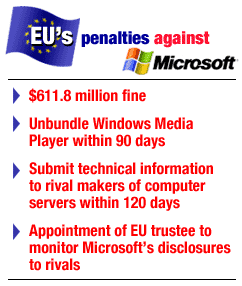 In a written statement, U.S. Senate Majority Leader Bill Frist, a Republican from Tennessee, said that the EU's demand for these changes to Windows is "preposterous" and will "hurt one of America's most successful companies." He added that he feared the U.S. and EU "are heading toward a new trade war" as a result of the ruling.
The U.S. Justice Department responded as well. R. Hewitt Pate, Assistant Attorney General for Antitrust, said in a statement that the government's settlement with Microsoft has already "resulted in substantial changes to Microsoft's business practices."
Pate also expressed concern about the size of the fine. "For this fine to surpass even the fines levied against members of the most notorious price fixing cartels may send an unfortunate message about the appropriate hierarchy of enforcement priorities," he said.
Fortune.com

The EU also required that "complete and accurate" information be given to rival makers of software for computer servers, such as Sun Microsystems (SUNW: down $0.03 to $3.98, Research, Estimates), within 120 days.
In a statement, Microsoft said it will seek a legal review of the decision in the Court of First Instance in Luxembourg. In addition, Microsoft CEO Steve Ballmer said that a settlement that the company proposed last week would have "offered far more choices and benefits to consumers."
Still, the fine isn't causing much worry on Wall Street -- Microsoft (MSFT: Research, Estimates) has $52.8 billion in cash. And the fine was less than the maximum the EU could have imposed: 10 percent of Microsoft's annual sales, or about $3 billion. In fact, shares of Microsoft gained about 1.1 percent, to $24.41, in trading on the Nasdaq Wednesday.
"In the rest of the world's dollars, it's going to be significant, but in Microsoft's dollars it won't matter a whole lot," said Mark Ostrau, co-chair of the antitrust group with the technology law firm Fenwick & West, said earlier this week when the reports of the fine amount first started to circulate.
But the sanctions would be particularly troublesome for Microsoft because it is set to release the next version of Windows, code-named Longhorn, in 2006. With the company dogged by concerns about sluggish sales growth in the near-term, many analysts view Longhorn as being crucial to the company's continued success over the next few years.
"The EU could try to force the company to not make their products as integrated. This would not be a good thing for Microsoft investors," said Kimberly Caughey, an analyst with Parker/Hunter.
To bundle or not to bundle?
This would mark the most significant reprimand to Microsoft since the U.S. Justice Department proposed splitting Microsoft into two companies in 2000 after the company was ruled to have violated antitrust laws.
That decision was eventually overturned, and Microsoft settled its landmark antitrust case with the U.S. government in November 2001. A U.S. district judge agreed to uphold the terms of that settlement a year later.
As part of the settlement, Microsoft was forced to make it easier for PC makers to use software from Microsoft competitors and prohibited the company from retaliating against customers who chose products from Microsoft rivals.
"The fact that the EU is showing its teeth is very significant," said Richard Williams, a software analyst with Next Generation Equity Research, an independent research firm. "Microsoft kind of got away with things in the U.S."
Windows likely to remain cloudy
Microsoft has been able to dominate the desktop computing world largely because of its bundling strategy. There are some concerns that the EU's decision may impede Microsoft's efforts to grow in two other key markets: corporate software and mobile computing.
More about Microsoft

Sales from Microsoft's two corporate-focused divisions -- servers and tools and business solutions -- accounted for 23 percent of Microsoft's total revenues in its fiscal second quarter. Any remedies that would prevent Microsoft from bundling software into its Windows Server operating system could have a major negative effect on the company, Williams said.
Ostrau said that the EU's decision should also set a precedent for how Microsoft will be able to proceed in the mobile computing world as well. "Mobile is the next battleground," Ostrau said.
This segment of Microsoft's business, which includes the PocketPC standard for wireless devices, is rapidly growing. But it is still a very small part of the overall business, accounting for less than 1 percent of sales.
However, an appeal of the EU's ruling means that this case could be dragged out for several more years. The EU began its antitrust case against Microsoft in 2000.
So the ultimate impact of the EU's decision might not be felt for some time. But the fact that this battle may be drawn out could weigh further on Microsoft's stock, which has fallen 11 percent so far this year.
Robert Mattson, a software analyst with Gartmore Global Investments, a mutual fund firm that owns Microsoft, said the biggest risk surrounding the EU ruling is whether the process causes Microsoft to delay the release of Longhorn.
"Right now, it's such a wild card," said Mattson. "The uncertainty is what is putting people on pins and needles."
Microsoft will still face other legal challenges after the EU, including a separate antitrust suit filed by rivals Sun Microsystems and Real Networks. In addition, a class-action suit filed by software customers in Minnesota began last week. But Ostrau said the outcome of these cases should not be nearly as significant as the EU's decision.
Parker/Hunter's Caughey owns shares of Microsoft, but her firm has no investment banking relationship with the company. Other analysts mentioned do not own the stock, and their firms do not perform investment banking for the company.

---
Reuters contributed to this report