NEW YORK (CNN/Money) - Procrastinators, get your butt off the couch! Time is running out to file those 1040s.
To make up for the pain, here's a last-minute tax tip: buying shares of Intuit (INTU: Research, Estimates), which owns the market leading TurboTax preparation software, could be a smart move.
Intuit is expected to post earnings growth of about 10 percent for its fiscal third quarter, which ends in April. Sales are expected to increase 11 percent.
For the full fiscal year, which ends in July, analysts are predicting an earnings increase of 18 percent and sales jump of 13 percent.
Next year looks similarly solid: consensus forecasts call for earnings growth of 17 percent and revenue growth of 13 percent.
Still, the stock has taken a tumble so far this year, falling nearly 17 percent.
High hopes during tax season...
But the stock has sold off before Tax Day almost every year since Intuit inherited TurboTax through its merger with ChipSoft in 1993.
The stock has declined eight times during the past 11 tax seasons and is currently on a five-year losing streak. Including this year, shares of Intuit, since 1994, have fallen an average of 11.8 percent between Jan. 1 and Tax Day (usually April 15, but sometimes the 16th or 17th).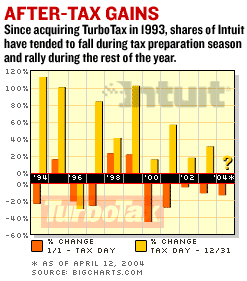 Shares of Intuit have then gone on to rally between Tax Day and the end of the year nine times during the past 10 years. The only down year was 1996. The stock has gained, on average, 53.3 percent during those 10 post-tax season periods.
What gives? Even though Intuit has been diversifying in recent years to lessen its reliance on the tax business, the company still generates a substantial portion of its entire year's business during the fiscal third quarter when tax-related sales are highest.
This year's third-quarter sales are expected to make up 38 percent of Intuit's full-year revenues while the quarter's profits are estimated to account for 70 percent of overall earnings.
So investors tend to audit (yuk yuk yuk) the third quarter's results extremely closely. Any hint that TurboTax is losing ground to offerings from competitors such as H&R Block's TaxCut has tended to cause violent moves in the stock.
To that end, Intuit's shares plunged 8 percent on Feb. 19 after the company said that third-quarter sales and earnings would be below Wall Street's consensus estimates.
...but lower expectations as the year goes on
But some of the fears appear overdone. The company said last week that total unit sales of TurboTax were up 8 percent from a year ago so far this tax season.
Robert Mattson, a software analyst with Gartmore Global Investments, an asset management firm that owns the stock in several mutual funds, said it doesn't appear that Intuit is experiencing any problems with its tax business.
Recently in Tech Biz

Rather, he thinks that Wall Street's estimates may have been a shade too high. He also said it's natural for unit growth to slow somewhat simply because the company dominates the market, with about a 70 percent market share.
"Intuit's got a good market presence, good market share and a good business. Things are just coming in a little lower than expected this year," said Mattson. "I don't get the sense that it's a market share loss."
Plus, after April, the pressure is off Intuit until the beginning of next year's tax season. That has tended to help the stock as the year progresses.
Glenn Greene, an analyst with ThinkEquity Partners, said Intuit usually reports quarterly losses in its fiscal fourth and first quarters, which end in July and October. So expectations, which are enormous in April, are no longer that high.
"Post tax season, there's less risk in the July and October quarters. It's easier to hit the numbers," Greene said. He doesn't own the stock and ThinkEquity has no banking ties to Intuit.
With all this in mind, Intuit looks like a decent value. Shares trade at 23 times next year's earnings estimates, a reasonable P/E for a company with a projected long-term earnings growth rate of 19 percent.
So if the stock sticks to its usual trading pattern, Intuit investors should enjoy some nice after-tax gains.
---
Sign up to receive the Tech Investor column by e-mail.
Plus, see more tech commentary and get the latest tech news.