NEW YORK (CNN/Money) - Manpower Inc., the world's No. 2 employment firm, reported sharply higher second-quarter earnings Tuesday, but warned of slightly disappointing profits for the third quarter and said U.S. businesses still seemed cautious about hiring.
Milwaukee-based Manpower reported earnings in the quarter ended June 30 of $53.1 million, or 56 cents per share, a jump of 82 percent from $29.1 million, or 37 cents a share, a year earlier. Wall Street analysts, on average, expected Manpower to earn 52 cents a share, according to earnings tracker First Call.
Manpower, whose revenue is second in the world only to Swiss hiring firm Adecco (ADO: Research, Estimates), reported revenue of $3.6 billion, up 20 percent from $3 billion a year earlier.
But the firm also forecast third-quarter earnings of between 63 cents and 67 cents per share. Wall Street's median forecast was for Manpower to earn 67 cents, with a high forecast of 73 cents.
Following a prolonged job-market slump -- the worst since the Depression, by some measures -- U.S. non-farm payrolls added more than a million jobs in March, April and May. Demand for workers helped boost Manpower's U.S. business, though the firm's earnings also got a boost in overseas markets from a weaker dollar.
U.S. job growth slowed again in June, along with other economic indicators. In a conference call with analysts and reporters, Manpower executives said they believed demand for workers had rebounded in July and would be steady again the rest of the year.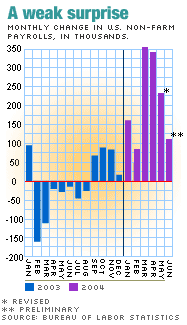 But they also said job growth would not exactly boom, meaning the "hockey stick"-shaped recovery many observers have hoped for -- slow improvement followed by a sudden explosion of growth -- was likely not on the way.
"When we talk to customers, they are talking about hiring more, they have plans to hire more," CEO Jeffrey Joerres said during the call. "But they're still being cautious because of the amount of uncertainty surrounding ... interest rates, oil prices and conflicts overseas."
"There's also the practicality that people are needed to do the work, but I'm not sure whether the third quarter gives us the proverbial hockey stick," Joerres added. "What our guidance would tell you is we're not seeing that as going to happen in the third quarter."
Manpower publishes a closely watched quarterly survey of corporate hiring intentions. In its third-quarter survey, published in June, 30 percent of 16,000 employers surveyed planned to add positions, while 6 percent planned to cut jobs.
The net growth rate, seasonally adjusted, nearly matched the robust rate of the second quarter and was said by Manpower to be one of the strongest in the 40-year history of its survey.
Joerres, in an interview with CNN/Money, said the results of that survey were not inconsistent with the cautious mood he described in the earnings call.
"We were trying to keep people away from predicting 15-to-20-percent growth rates [in U.S. services] in the third quarter, when we came off a 7-percent growth rate in the second quarter," Joerres said. "We're seeing good growth, good job creation that's still solid, but about the same as it was in the second quarter."
Joerres said his outlook was also consistent with monthly job gains higher than the disappointing 112,000 reported in June -- though maybe not with the gains of more than 300,000 experienced in March and April.
It's possible, in fact, that those earlier months represented the dramatic, hockey stick-shaped boost Joerres described and that hiring growth is now settling in for a steady expansion.
"We went from adding zero to 50,000 jobs per month up to adding 300,000 jobs per month," said John Silvia, chief economist at Wachovia Securities. "Now we're going to adding 200,000 per month. Going from 300,000 to 200,000 means we've gone from a recovery to an expansion."
"It may look like the economy is losing momentum, that it's slowing down," he added. "But it has to slow down, or we'll be at the moon."