NEW YORK (CNN/Money) - Google stock jumped 18 percent in its long-awaited but rocky debut Thursday.
Shares of the No. 1 search engine company closed at $100.34 after they opened at $100, a 17 percent increase from its offering price of $85.
More than 22 million shares changed hands on its first day of trading, making Google one of the most actively traded stocks on the Nasdaq. The stock stayed in a fairly tight range throughout the day, hitting a low of $95 and high of $104.06.
The slightly better-than-expected performance was not enough to save other tech stocks though; the Nasdaq composite index fell about 0.6 percent Thursday.
Google, trading under the ticker symbol GOOG (GOOG: Research, Estimates), was supposed to be one of the hottest initial public offerings of stock since the late 1990s. But its gains paled next to some of the hottest names of that era.
When the stock finally opened shortly before noon Eastern Time, it was not without a hitch.
It first appeared that the stock had surged 60 percent above its offering price to $135.91. But a Nasdaq official said two trades were prematurely posted before the stock had actually started trading.
The company closed its controversial Dutch auction Wednesday and set its price at the low end of its revised $85 to $95 a share range. Google slashed the price and the size of its offering Wednesday morning, and wound up selling a total of 19.6 million shares.
The offering raised about $1.2 billion for the company, which had originally hoped to sell a total of 25.9 million shares at $108 to $135 a share.
The company's IPO has been anything but smooth. It's been hit by a wave of negative publicity and several regulatory snafus since it filed to go public in late April.
The Securities and Exchange Commission has launched inquiries into the company's failure to properly register shares awarded to current and former employees as well as an interview that co-founders Larry Page and Sergey Brin did with Playboy just days before Google filed for its IPO.
Testing the market at a tough time
Google was also a victim of poor timing, as shares of tech stocks have been battered for the past month and a half. Shares of Google's competitors, Yahoo! and Ask Jeeves, have taken an even larger hit than the overall Nasdaq market on concerns about sales growth and lofty valuations.
Yahoo! (YHOO: down $0.37 to $28.11, Research, Estimates) stock edged lower Thursday, leaving it 23 percent below its 52-week high.
Google's opening day market value of $27.2 billion is about 25 percent lower than the $36 billion it would have commanded at $135, the top of its original price range.
But in many respects, the fact that Google merely made it to the market is a victory in itself. High-profile nanotech firm Nanosys withdrew its IPO earlier this month, citing unfavorable market conditions. Several other tech firms, including PlanetOut and Lindows, recently postponed their offerings.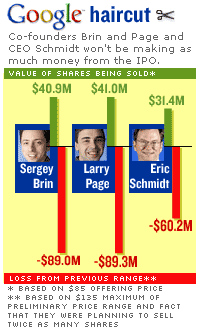 Investors also should not feel too badly for Google's co-founders or CEO Eric Schmidt.
Even though the three made less money than they were originally hoping after cutting how much stock they sold, the remaining holdings for Brin and Page were each worth about $3.8 billion based on Thursday's closing price. Schmidt's stake in Google was worth more than $1.4 billion.
And according to earnings estimates from three analysts who have already published research on Google, the stock is more of a bargain compared to Yahoo! (YHOO: Research, Estimates) following the price cut.
For more on whether Google is right for your portfolio, click here.
John Tinker of ThinkEquity Partners is forecasting earnings of $2.34 a share for Google in 2005 while Marianne Wolk of Susquehanna Financial Group estimates Google will earn $2.48 a share next year. Martin Pyykkonen with Janco Partners has an earnings target of $2.50 a share.
Ga-ga for Google

At the offering price of $85 a share, Google had a P/E of 35 times the $2.44 average of these three estimates. At its closing price, Google's multiple increased to 41. But Yahoo!, by way of comparison, is trading at nearly 60 times 2005 consensus earnings estimates of 47 cents a share.
Google's opening day gain was a bit stronger than many had expected and Tinker attributed that to some of Google's biggest venture capital backers, Kleiner Perkins Caufield & Byers and Sequoia Capital, saying in a filing Wednesday they had decided to not sell any of their stake to the public.
Tinker said this restored some confidence in the company because venture capitalists were showing a willingness to hold on to the stock, apparently due to its long-term growth potential, instead of immediately cashing out in the IPO.
"It was the right message. This was a very messy process but when you cut through all the noise, this is an awesome company," Tinker said.
Still, even with the drastically reduced valuation, there was some skepticism about whether Google should be a buy.
"It's still expensive at these levels," said Will Dunbar, managing director with Core Capital Partners, a venture capital firm with no stake in Google. "There will be substantial competition in the near future and that's one of the things that gives me pause about the price."
Janco's Pyykkonen adds that he was hearing it was difficult for traders interested in short-selling Google to find shares to borrow from the banks and brokers involved in the auction.
Short sellers borrow stock and quickly sell it with the hopes of buying it back later at a lower price. So there could be some pent-up bearish demand for Google, Pyykkonen said.
And according to an informal poll on CNN/Money, 85 percent of more than 23,000 respondents said that they did not plan on buying shares of Google once it began trading.
Analysts quoted in this story do not own shares of Google or other companies mentioned and their firms have no banking relationships with the companies.