RESEARCH A CAR
Get invoice and market prices, specs, reviews and photos

GET A QUOTE

RESEARCH A USED CAR
Get used car pricing, reviews, ratings, and more.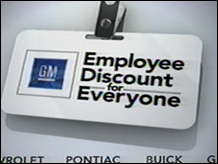 General Motors will end its popular 'employee discounts for everyone' promotion on Aug. 1. CNN's Andy Serwer reports.
Play video

NEW YORK (CNN/Money) - General Motors Corp. is set to end its popular and successful "employee discounts for everyone" promotion next week, and move to more emphasis on permanently lower sticker prices instead of big rebates.
GM's strong sales in June and so far in July have left it with depleted inventories of the 2005 models that the offer applied to, according to company officials earlier this month, so the move is not a total surprise. But generally, summer sales promotions to clear previous model year vehicles remain in effect through August and sometimes into September as dealers try to make room for new vehicles.
The employee discount offer will end Aug. 1, a GM spokesperson said.
It is not clear how Ford Motor Co. and Chrysler Group will respond. Both of them started their own employee pricing program in July, a month behind GM, and they have larger inventories of 2005 models. But the two have also generally followed GM's lead on incentives.
GM has been signaling plans to move to lower sticker prices rather than setting sticker prices high and using cash-back and other incentives to lure customers into dealer showrooms.
GM has said that it plans to substantially reduce sticker prices on as many of its vehicles. For example, the sticker price of the Cadillac DTS large sedan will be about $5,000 lower than that of the DeVille that it replaces, a Cadillac spokesperson said.
U.S. customers have generally come to expect cash back, below-market interest rates or other incentives when they buy Big Three vehicles. The challenge for GM from its new pricing program is to wean customers away from incentives. If it needs to offer incentives on top of lower pricing, it will mean more profitability woes for GM.
The prevalence of incentive offers in the past have limited the cost of the employee pricing program. GM officials estimate that customers were paying $300 to $400 less per vehicle with the employee pricing offer than they would have paid with earlier incentive programs.
But that cost to GM is high. The company is likely to have sold more than 1 million vehicles in the United States in June and July, a period during which the No. 1 automaker is losing money on its core auto operations.
-----------------------------------------------
For a look at GM's disappointing 2Q results, click here.
For a look at more news on autos and automakers, click here.
Feedback