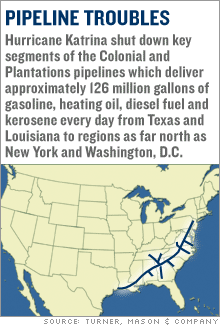 More on Katrina's fallout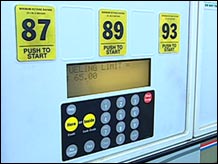 With gas prices climbing, CNN/Money's Allen Wastler shows you how to stretch your dollars at the pump. (August 31)
Play video

ALPHARETTA, Ga. (CNN) - One of two pipeline companies supplying gasoline to the eastern seaboard of the United States said Wednesday it hopes to be back in partial operation soon. The other pipeline is still waiting for an indication on when electricity to pumps will be restored.
"We've gone out and leased diesel generators in an effort to restart our line," said Steve Baker, spokesman for Colonial Pipeline, based in Alpharetta. "We hope to have it back up and running by this weekend."
Electrical power outages due to Hurricane Katrina shut down key portions of the 5,500 mile Colonial pipeline in Louisiana on Monday, Baker said.
Colonial Pipeline normally pumps a total of more than 100 million gallons of fuel products each day from refineries and storage facilities in Texas and Louisiana to Georgia, the Carolinas and on to New York. One pipeline carries mainly gasoline. A second parallel line, also shut down, carries diesel fuel, home heating oil, jet fuel and military kerosenes.
"We'll be delivering what's in the lines as soon as we have the power back on, " Baker said. The firm would be able to pump fuels from refineries in Texas, he said, even if refineries shut down by the storm along the Gulf Coast remain off line.
The shutdown of Colonial's pipelines and one operated by Plantation Pipeline, based in Atlanta, means key terminals and distribution centers along the eastern seaboard, including near Greensboro, N.C., and in Doraville, Ga., are not being replenished with refined fuels. It's not clear how much gasoline and diesel those distribution centers have on hand. Baker said the terminals usually keep more than a week's supply.
A spokesman for Plantation Pipeline, which normally pumps 26 million gallons of fuel each day from Louisiana as far north as Washington, D.C., says that even though the pipeline was not damaged there is no electricity to operate a pump station in Collins, Miss.
"If the pumps aren't working downstream, there's no way to pump that up the line," said the Plantation spokesman Rick Rainey. "While the line is still pressured up, until the pumps start up there's no way to move the product."
Rainey says that although his company's pipeline is undamaged, it is not clear what fuels will be available for transmission from the refineries along the Gulf Coast. "We're not sure what their status is," he said.
________________________________
Is $4 for a gallon of gasoline at the pump a reality?Click here.