More on Katrina's fallout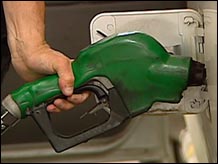 CNN's Allan Chernoff discusses Hurricane Katrina's effect on oil and gas prices. (August 30)
Play video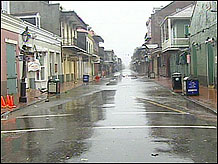 From fuel prices to businesses to homes, Hurricane Katrina's economic ripple will be costly. CNN's Mary Snow reports (August 29)
Play video

NEW YORK (CNN/Money) - The impact of Hurricane Katrina on U.S. oil production may be worse than initial reports estimated and could lead to a national gas crisis in the short run, analysts warned Tuesday.
With the U.S. economy cruising at about 4 percent growth, economists still see Katrina's effect as only a speed bump in our path, and not the end of the road.
"The story is all about oil," said Michael Englund, chief economist with Action Economics. "This is still a fluid situation but we have enough information to feel comfortable lowering our economic growth estimate even further."
Englund lowered his forecast and now sees third-quarter economic growth at about 4.0 percent, down from his earlier forecast of 4.6 percent, due to the disruptions in U.S. oil production and refinery in the Gulf Coast region in the aftermath of Katrina.
"Without the hurricane we had perceived a bounce in U.S. oil inventory,' Englund said. "But if refineries are out of commission because of damage or flooding for an unspecified period of time, it will shock the entire system and I expect firms will hold back their production."
This could send oil, gasoline and heating oil prices soaring higher than their current record levels.
Industry watchers said the uncertainty surrounding the scope of the damage to Louisiana's oil offshore oil rigs, refineries, and its ports which account for half of all oil imported into the country, was pushing commodity prices higher.
Crude oil struck a new record, near $71 a barrel Tuesday, while the average national price for unleaded gasoline hovered at about $2.60 a gallon, up 39 percent from a year earlier.
Said Englund, "Going into the hurricane we had a shortage of refining capacity anyway. This just throws a hand grenade into the already delicate balance."
Consumers have been absorbing the sticker shock at the pump for months already without greatly altering their spending habits. However, analysts cautioned that if gas prices reach $3 a gallon, it could force consumers to make noticeable changes to their budgets.
And if spending slows, that in turn threatens to dampen economic growth since consumer spending fuels two-thirds of the economy.
"Apart from refineries, some pipelines may also have been damaged," said Englund. "Companies can switch over production to other refineries but it's not a quick process. It's very likely that we could have a short-term gas crunch which will keep prices elevated."
Hidden benefits lurking?
J.P. Morgan senior economist Anthony Chan agrees that higher energy prices will curb both regional and national economic growth in the near-term.
"I think a 0.2 percent decline in economic growth due Katrina's impact on oil and the regional economy is a realistic assumption," Chan said. Longer-term, Chan believes hurricanes tend to stimulate overall growth.
Said Chan, "Preliminary estimates indicate 60 percent damage to downtown New Orleans. Plenty of cleanup work and rebuilding will follow in all the areas. That means over the next 12 months, there will be lots of job creation which is good for the economy."
Prof. Doug Woodward, with the Division of Research at the Moore School of Business at the University of South Carolina, has researched the economic impact of hurricanes.
"On a personal level, the loss of life is tragic. But looking at the economic impact, our research shows that hurricanes tend to become god-given work projects," Woodward said.
Within six months, he expects to see a construction boom and job creation offset the short-term negatives such as loss of business activity, loss of wealth in the form of housing, infrastructure, agriculture and tourism revenue in the Gulf Coast states.
In a note late Tuesday, Standard & Poor's estimates that Katrina could "shave a few points off our forecast of 3.7 percent growth."
Among the industries affected, trade, tourism, agriculture, and construction (Florida's largest industries), as well as Louisiana's energy-related industries will be hurt in the third-quarter, the firm said.
"At the same time, repairs to hurricane-related damage in Florida, Mississippi, Louisiana, and other regions affected by the storm should boost GDP in subsequent quarters," S&P analysts wrote in the note.
"Natural disasters bring in a lot of money from the outside to help in the rebuilding," he said. "The rebuilding boom will generate incomes. Insurance money and federal relief money will pour in. This happened very quickly in Florida last year," Woodward said. "Give it a year. We'll see positive economy results maybe by the third-quarter of next year."