More on Katrina's fallout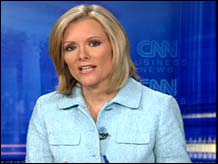 CNN's Gerri Willis offers five tips on how to prepare for disasters like Hurricane Katrina. (September 2)
Play video

NEW YORK (CNN/Money) - Images of people and debris floating in the streets of New Orleans seem so unreal you may think it could never happen to you. Think again.
Seventy percent of Americans live on the coast and may be vulnerable to flooding. In fact homeowners are 26 times more likely to be affected by a flood than a fire according to the Independent Insurance Agents and Brokers of America.
In today's 5 tips we're going to tell you what you need to know about buying flood insurance.
Assess your risk
Flooding is the most costly natural disaster in the U.S., but only about 1 in 4 homes in high risk areas carry this kind of insurance.
Just because you may not live near a body of water, doesn't mean you can escape the risk of flooding. "One-third of claims we see come from people who live outside flood zones," says Sue Nestor of the IIAB.
To assess your risk, check out the National Flood Insurance Program's Web site at www.floodsmart.gov or call (888) 379-9531.
If you plug in some information on your home, Floodsmart will give you a flood insurance quote. While you can buy flood insurance through the same insurance agent that sold your homeowners insurance policy, you may want to find out some flooding estimates on your own.
This Web site will also give you a list of flood insurance agents in your area. Keep in mind that if you are moving to a high risk flood zone, like beachfront property, getting flood insurance may be mandatory in order to get a mortgage.
Know the limits
The National Flood Insurance Program has its limits. You can get up to $250,000 for the house and $100,000 for what's inside it.
Some homeowners may find that the National Flood Insurance is just not enough. If you want more coverage, you can get extra flood insurance through private companies.
American International Group for example lets policyholders insure their property up to its full value. Premiums start at $1,200 for $1 million in coverage in an excess flood policy, but could vary widely. Check out www.aig.com.
Chubb Insurance offers excess flood insurance at premiums of $1,000 for $1 million in coverage. Go to www.chubb.com for more information.
Remember that flood insurance covers damage resulting from rising water from outside the house. So a leaky bathtub, broken pipes or sewer back-ups won't be covered.
Keep in mind that finished basements including carpeting, wallpaper or personal belongings are not insured by the government, nor are they insured with an excess flood insurance policy.
Don't rely on government handouts
If your area has been declared a federal disaster by the president you will be able to get aid but this is simply a low-cost loan from the government.
"One of the biggest mistakes people make is that they think FEMA is going to bail them out," says Nestor.
But it's more like taking out a second mortgage on your home says Jeanne Salvatore of the Insurance Information Institute.
If you use FEMA funds, you will also be required to purchase flood insurance before you pay the loan back.
Don't delay
If you've turned on the TV and you see a hurricane barreling toward your community, it may be too late to be covered by flood insurance.
While you can buy flood insurance at any time, there is a 30-day waiting period after you have already applied and paid the premium before coverage takes effect.
And let's remember the lessons we should learn. Less than half the buildings in Louisiana had flood insurance. In Mississippi, almost 80% went without coverage.
Beware of rising premium risk
Your flood insurance rate will likely rise, according the Independent Insurance Agents and Brokers of America. How much extra you'll be paying is still unclear.
Since Hurricane Andrew, there have been significant rate hikes of up to 6% according to the IIAB.
"I don't know how this program that's run by the government can bear the brunt of this burden," Nestor says.
Right now there is a flat-rate deductible of $500 or $1000. The typical premium is about $450 a year. If you live in a low-risk area, you could pay much less.
Take advantage of the NFIP's Preferred Risk Policy. You can get premiums for $85 a year. This policy is designed for properties located in low-to-moderate flood risk zones. Go to http://www.fema.gov/nfip/prphome.shtm for more information.
__________________________________________
Live in a hurricane-prone area? Click here.