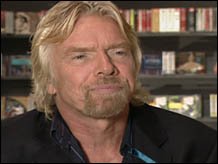 Richard Branson, founder of Virgin Group, talks with CNN's Ali Velshi about the airline industry and plans to build an oil refinery.
Play video

NEW YORK (CNN/Money) - Despite five years of staggering losses, the nation's airline industry looks surprisingly close to the way it looked when the good times ended in 2000.
Yes, TWA got snapped up by American Airlines parent AMR Corp. (Research) in March of 2001, and US Airways (Research) is set to be purchased by America West (Research) after two trips to bankruptcy court.
But other troubled carriers have kept flying, and remained independent, despite only a handful of profitable quarters among the nation's largest airlines in the last five years.
Delta Air Lines (Research), which filed for bankruptcy Wednesday after the bell, has lost $6.1 billion, excluding special items, since the start of 2001, according to earnings tracker First Call.
And Northwest Airlines (Research) filed for Chapter 11 within a half hour of Delta, confirming days of speculation that the board would was set to file.
Still industry experts say that even with the filings, it's not clear the industry is set to undergo any significant change in the lineup of players.
"For at least 20 years we've been talking about consolidation, but it never quite evolves the way anyone expects," Michael Allen, a consultant with Back Aviation, said before the widely expected filings.
But with US Airways and United Airlines parent UAL Corp. (Research), Delta and Northwest in bankruptcy, industry experts say we may finally start to get some of the consolidation that has been long expected.
The difference between now and the past five years can be summed up in one phrase: record high jet fuel prices. That is putting more pressure on the industry than the high labor costs and low fares that caused much of the losses since 2001, according to Allen.
"In normal downturns, you lose some big players," said Allen. "This industry was not built for $62 a barrel oil."
But other experts say that despite the red ink, there are powerful forces keeping airlines from combining or even going out of business. And those forces don't go away even if most passengers are flying on bankrupt airlines.
"Airline mergers are very difficult. They require a lot of cooperation from labor, management attention and financing," said Philip Baggaley, Standard & Poor's senior airline credit analyst. "All those things are in short supply when you're just struggling to survive."
Still, some of the regulatory hurdles to airline combinations are reduced when an airline is in bankruptcy court, which can make a carrier's labor unions more flexible in an effort to save jobs.
"A situation where you have United, Delta and Northwest all in bankruptcy does make it easier to think about further consolidation," Baggaley said.
At a press conference Wednesday, Northwest CEO Doug Steenland said that he didn't expect there to be any kind of industry consolidation in the near-term, although he added, "I think that at some point it's reasonable to expect that consolidation could take place in the airline business."
Trimming down
One thing likely to happen through the bankruptcy process is that airlines will cut back, scrapping older, less efficient aircraft and gates at less profitable cities.
For example, while none of the nation's largest airlines have disappeared in the last five years, the number of planes taken out of service, and the number of employees who lost their jobs, are the equivalent of a major airline, said Michael Boyd, an industry consultant.
"You're almost talking about a carrier the size of American Airlines going out of business," he said.
But the growth of operations at low-cost carriers will keep capacity high and fares low, Boyd said, adding that he doesn't see any of the country's five biggest carriers -- American, United, Delta, Northwest and Continental (Research) -- merging or failing over the next few years.
"No merger I know of has ever ended up as advertised. They may try it, the benefits just aren't there," he said. "You're talking different fleets, different maintenance programs. It's obscenely expensive."
According to Boyd, it's more likely that the profitable, fast-growing low-cost airlines see some mergers or a failure or two over the next five years.
Low-cost carriers that fly most of their passengers direct rather than through a hub-and-spoke system have limits as to how far they can grow without causing problems for each other. And a business mistake by one of the low-fare carriers could result in the upstart being bought or forced out of business far more quickly than would one of the larger airlines.
"Today's star can be tomorrow's invalid. Yes, they've been growing, but growth is always a dangerous path," he said. "No airline goes out of business by failure to grow. You go out of business by stumbling while you're growing."
He added that the fuel costs have not spared the low-cost carriers problems, although Southwest Airlines (Research), the largest low-fare carrier and most profitable airline in the industry, has protected itself by long-term fuel purchase contracts known as "hedges."
"Frontier Airlines is already losing money. JetBlue and AirTran are on the edge, and Southwest, had it not hedged fuel, would be losing money," Boyd said. "Anything with a wing has problems with today's fuel prices. But if oil had stayed where it was a year ago, like we thought it would, we'd be talking today about how profitable the airlines are today."
For a look at what a mechanics strike at Northwest Airlines could mean for the industry and labor, click here.