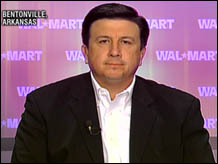 A Wal-Mart official talks about the company's role in the Katrina recovery effort. CNN's Soledad O'Brien reports (September 8)
Play video

NEW YORK (CNN/Money) - Corporate donations to help victims of Hurricane Katrina are now more than $400 million and could eventually exceed $1 billion, according to a published report.
USA Today, citing three organizations tracking corporate donations, said that corporate donations now stand at $409 million, with donations from the companies' customers adding another $138 million. That means corporate funds raised now stand at $547 million, close to the $565 million raised for tsunami relief after that Dec. 26, 2004, disaster.
Stephen Jordan of the U.S. Chamber of Commerce's Center for Corporate Citizenship told the newspaper that he expects Katrina donations to eventually top $1 billion, breaking the record $750 million collected after the Sept. 11, 2001, terrorist attacks. The chamber says that 145 companies had each pledged $1 million or more in cash and products through Monday.
Employee giving is not counted as corporate giving, but companies including Baxter International (Research), Chubb (Research) and Verizon Communications (Research) are among those that try to influence their employees with a $2 match for every $1 they contribute.
Total giving is higher than reported, Jordan says, because many companies give without issuing a press release.
Wal-Mart Stores (Research), Office Depot (Research) and General Electric (Research) are so far the largest corporate givers to the hurricane relief effort, all near or surpassing $20 million in cash and products, according to the newspaper.
Wal-Mart has given $17 million in cash, the largest corporate cash contribution to date, in addition to $3 million in products.
The newspaper reports there are advantages to donating products instead of cash. The Internal Revenue Service allows a tax deduction greater than the products' costs, Curt Weeden, president of the Association of Corporate Contributions Professionals, told the newspaper. He said it's possible some companies will use the disaster to unload hard-to-sell products.
While Weeden told the newspaper that tsunami donations were generally charged to a corporation's 2005 budget, he warned that another major disaster this year could mean large cuts to the arts and other more traditional charitable donations. Another such emergency would pose an "invasion of their pretax profit lines," Weeden told the newspaper.
_________________
For more details on corporate donations to hurricane victims, click here.
For a look at how Wal-Mart's donations have helped silence the company's critics, click here.