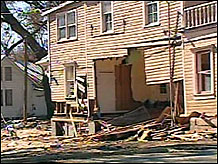 People expecting insurance help to cover Katrina costs are finding no help at all. CNN's Allan Chernoff reports (September 14)
Play video

NEW YORK (CNN/Money) - Hurricane Katrina victims have already begun feuding with insurance companies over compensation for the damages to their homes. The federal government is under attack for its response in the immediate aftermath of the storm.
Can lawsuits be far behind?
"From the viewpoint of mass tort law firms, this is a gift from heaven: a huge number of people who have suffered terrible losses, with 24X7 media exposure," said Donald Light, senior analyst at Celent, a global research and consulting firm.
In fact, the Constitution forbids citizens from suing the federal government under what's known as "sovereign immunity." There are a few exceptions, but law professors and other legal sources said it was doubtful there would be any federal suits related to Katrina.
Insurance companies, however, could become targets for class-action attorneys.
The recovery effort in the hardest-hit Gulf Coast states could cost up to $200 billion, and most homeowners lacked any flood insurance. Standard homeowners' policies exclude flood coverage, which must be bought from the federal government's National Flood Insurance Program, which is administered by the Federal Emergency Management Agency (FEMA), a unit of the Department of Homeland Security.
"Homeowner flood insurance is woefully inadequate in most cases," said Richard Scruggs, a well-known class-action attorney. "There's a lot of talk about lawyers bringing class actions for homeowners in the entire gulf coast that were devastated by high water -- I'll file one myself if I have to," he added.
Melvyn Weiss, a class-action attorney at Milberg Weiss Bershad & Schulman, however, said it was still too early to say if there could be a case.
But it wouldn't be the first time such a suit has been filed.
In June, a class-action lawsuit was filed charging that victims of 2003's Hurricane Isabel were underpaid for their claims. The plantiffs are seeking $2 billion damages from NFIP subcontractor Computer Sciences Corp., FEMA and various insurance companies and adjusters.
The insurance company defendants include Allstate, Harleysville Mutual, The Hartford, Liberty Mutual, Nationwide Mutual, State Farm, Travelers and American Security Insurance Co.
FEMA officials, including former Director Michael Brown, were also named in the suit.
Martin Freeman, a lawyer representing the plaintiffs, argued that because certain federal officials acted outside the scope their authority, and as a result people were injured, then they shouldn't be protected by sovereign immunity.
According to the lawsuit, which begins the discovery phase in January, the defendants knowingly paid out far less than policyholders deserved to repair flooded homes and property.
"[Officials throughout NFIP] deliberately and fraudulently used low-balling, high-pressure tactics to get people to accept pennies on the dollar of what they're entitled to," said Freeman.
Maryland Insurance Commissioner Alfred W. Redmer Jr., who testified before a congressional subcommittee reviewing the flood program last spring, said residents were "offered insufficient settlement amounts" from the flood insurance program.
A FEMA spokeswoman and Michael Dickerson, a spokesman for Computer Sciences, declined to comment on the pending litigation. Spokesmen for several of the insurance companies also did not immediately comment.
Freeman estimated that a similar class-action suit in the Gulf states could arise following Katrina and move more quickly through the system because of the magnitude of the disaster and political overtones of the aftermath.
---------------------
One insurer says Hurricane Katrina could cost industry as much as $50 billion, click here for more.
After the hurricane, the federal flood insurance program may raise rates nationwide, click here for more.