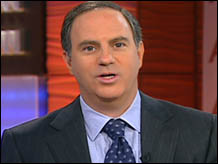 CNN's Andy Serwer reports on how the bankruptcy of Delta and Northwest will affect customers with tickets for future flights. (September 15)
Play video

NEW YORK (CNN/Money) - With the Chapter 11 filings from Delta and Northwest, fully half of all seats in the airline industry are on carriers operating under bankruptcy protection -- not a comforting thought as you get ready to plan your next trip.
But, in fact, bankruptcy itself has little effect on the consumer. Industry analysts and consultants say frequent-flier programs and fares won't be directly affected.
What's more, though the industry has been suffering since the Sept. 11 terrorist attacks, customer service -- think reservation times and delays -- has been remarkably stable. And industry experts don't expect a fall-off now.
"Airlines have already cut the services they can cut, now cuts will have to come from somewhere else," said industry consultant Michael Boyd. "The food is already nonexistent."
Still, there are plenty of challenges. And when it comes to customer service, some airlines perform better than others.
Consider these key areas:
Comfortable flights...The major carriers may now have to cut back on their domestic flights to survive and "that could mean fewer, more crowded flights," according to Dee Runyan, executive vice president at WorldTravel BTI, a consulting firm specializing in business travel.
Getting bumped...Delta was already getting low marks in this area. This past spring, Delta involuntarily bumped more than 3,000 passengers off flights, according to the Department of Transportation. That's more than twice as many passengers as any other airline. JetBlue, on the other hand, didn't bump a single person during the same time period.
Delays...And if you do manage to get onboard and buy yourself some chips and a $5 beer, what's the likelihood of touching ground on time?
If you're on Hawaiian Airlines, the chances are high -- the airline has the highest percentage of planes arriving on time, but 25 percent of AirTran's planes reportedly arrive late -- so give your loved ones a heads up.
Baggage handling...This is one area where customer service has suffered a noticeable decline. Most travelers have become accustomed to crossing their fingers at the baggage claim, and with reason. The number of mishandled bags, which means bags that are lost, damaged, delayed or pilfered -- yes, pilfered -- has nearly doubled in the past three years.
Of the major carriers, Delta has more mishandled baggage reports per 1,000 passengers than any other airline, according to DOT, while United has a good track record, and Hawaiian, again, scores the best -- although still not perfect.
That's one of the last services that is not automated, explained Aram Gesar editor of AirGuide Magazine and AirGuide Online. "That's where consumers will feel the strain."
Gesar, who said fliers should expect to face even more problems with their bags to come, offers this tip to travelers: Overnight your luggage to your destination.
----------------------
For more tips on coping with potential travel nightmares, click here.
For more on the Delta bankruptcy, click here.
For more on the Northwest bankruptcy, click here.
Is there more airline turbulence ahead? Click here.