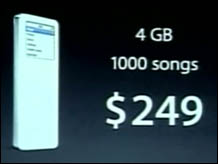 Apple Computer has agreed to replace defective iPod nano screens. CNN's Andy Serwer reports. (September 28)
Play video

NEW YORK (CNN/Money) - Apple Computer reportedly has agreed to replace defective screens that cracked too easily on its sleek new iPod nano music player after complaints from consumers.
The Wall Street Journal reports Wednesday that Apple has agreed to the replacement in answer to complaints on its own Web site and sites devoted to iPod enthusiasts. Philip Schiller, Apple's senior vice president of worldwide product marketing, told the paper a "vendor quality problem" caused cracking on "less than one-tenth of 1 percent" of the devices Apple has shipped.
Schiller said Apple's iPod nano warranty will cover devices with cracked screens. But the Journal talked to one iPod nano buyer, Matthew Peterson, who brought his nano back to the Orange County, California, Apple store where he bought it and was told that the warranty did not cover the cracked screen.
After he started two Web sites devoted to complaints about the device, he said an Apple representative contacted him to say the company would make a "one-time warranty exception" and send him a replacement for his iPod nano.
In addition to the cracked screens, some iPod nano buyers are complaining about what they term excessive scratches on the casing that houses their iPods. Some have posted pictures of their scarred devices on Web sites devoted to complaints about the device, the paper reports.
Apple expects the iPod nano, which went on sale three weeks ago, to be its biggest-selling portable device this holiday season, according to the paper.
For a look at the new iPod cell phone from Apple and cell phone maker Motorola (Research), click here.