Intel's earnings beat, but ...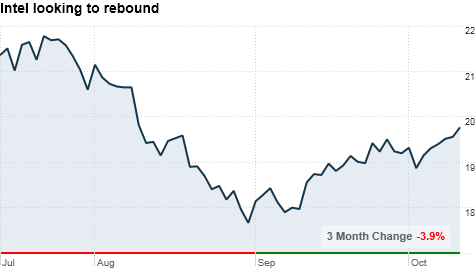 NEW YORK (CNNMoney.com) -- Intel Corp. reported a quarterly sales on Tuesday that beat Wall Street's forecasts but were in line with the company's lowered expectations.
The world's largest chipmaker said its net income rose to $3 billion, or 52 cents per share, up 59% from a year earlier.
Analysts polled by Thomson Reuters had forecast earnings of 50 cents per share.
Sales for the Santa Clara, Calif.-based company rose 18% to $11.1 billion, topping analysts' forecasts of $11 billion.
In August Intel warned that its third-quarter sales and gross margins would be much lower than it previously forecast due to weaker-than-expected demand for personal computers. The company's actual results were in the high range of its revised outlook but would have missed its initial forecast.
For the current quarter, Intel said it would post $11.4 billion in sales and gross margins of 67%, surpassing analysts' forecasts of $11.3 billion in revenue and gross margins of 65.7%.
Shares of Intel (INTC, Fortune 500) rose 1% after hours.
"These results were driven by solid demand from corporate customers, sales of our leadership products and continued growth in emerging markets," said Paul Otellini, Intel's CEO, in a prepared statement. "Looking forward, we continue to see healthy worldwide demand for computing products of all types."
Intel said sales of PC chips were up 3% in the quarter over the prior quarter, as were data center processors, as IT departments continue to refresh their hardware after delaying their replacement cycles for an unusually long time. Mobile processor demand continued to soar, though sales of its "Atom" chip for small devices declined 4% in the quarter.
On a conference call with analysts, Otellini said the company has a lot of revenue-driving products coming to market soon, including its tablet chip -- code named Sandy Bridge -- and new devices for its Atom processor. But he said he expected PC growth of 18% in 2010, down from the company's forecast of 20% during the previous earnings call.
"While they had to lower expectations in August, it's not such bad news," said Leslie Fiering, an analyst at Gartner. "The thing that is promising is that demand is looking good for the fourth quarter."
The results come after Intel's self-proclaimed "best quarter ever" in the second quarter, in which the company posted record revenue and profit on strong personal computer and netbook sales. But soon after, both Intel and rival AMD (AMD, Fortune 500) were downgraded by analysts due to a sharp and sudden decline in demand for PCs.
In addition to PC demand, Intel also answered questions about how it would tackle new, high-growth device markets that it doesn't have much presence in, like tablets. Otellini said Intel will win the segment by leveraging its global scale, using its experience in computer architecture and by diversifying with Microsoft (MSFT, Fortune 500) Windows 7, Android, Google (GOOG, Fortune 500) TV and Nokia (NOK) devices.
"We think tablets are exciting and we fully welcome their arrival," he said. "Will they impact PC sales? Sure ... but we think they will be additive to our bottom line."
Intel will also continue to work on its August purchase of security company McAfee for $7.7 billion, which represented a 60% premium over McAfee's closing share price from the day before the sale.
The deal was a head-scratcher from a technology standpoint, and analysts were mixed on their feelings about whether the acquisition made financial sense.
Intel is a closely watched bellwether by analysts. A strong showing by Intel tends to indicate increased demand for tech spending by consumers and businesses -- a sign that the economy is improving.