There may be a real estate slowdown, but bargain hunters still aren't finding much to feast on.
NEW YORK (CNNMoney.com) -- As signs mount of a slowing real estate market, the "vultures" are beginning to circle. But home prices may still have to fall further to create the bargains they crave.
These savvy home buyers who "save their pennies, wait for bargains and then pounce" are already out and about in Manhattan, according to Leonard Steinberg, an executive vice president with Prudential Douglas Elliman.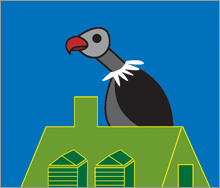 There are so many circling Manhattan this summer that they may be canceling each other out. Any little price weakness attracts them and the competition they provide keeps prices from decreasing.
Steinberg tells of a listing that hasn't sold for several months at a price in the mid-$6 millions. A buyer finally stepped up and offered just $5 million flat - the offer was rejected.
Pam Liebman, CEO of the Corcoran Group, a brokerage that specializes in Manhattan, Eastern Long Island and Florida properties, says she has seen no price fall off to date in Florida. "Buyers may be negotiating more, but sellers are mostly holding firm," she says. "There's been a drop in sales volume but not in prices."
Jonas Lee, a co-founder of Redbrick Partners, makes his living by buying residential properties at the right price. Lee hasn't noticed any wholesale bargain hunting yet, though he says the general slowdown in markets nationally should create buying opportunities for vultures.
Lee says that there could be some bargains soon in some once bubbly markets, such as South Florida. Another market that Lee identifies as ripe for a fall is the condo segment in the District of Columbia and its upscale suburbs. And he's eyeing California's Central Valley cities, including Bakersfield, Stockton and Modesto.
Lee think prices in San Francisco will also hold up. "Everyone thinks it is overpriced," he says. "But it's a highly constrained market, difficult to build in and very wealthy."
Jim Gillespie, CEO of Coldwell Banker, says some real estate investors were able to grab bargains in the hurricane-devastated Gulf Coast this year, something he admits to feeling ambivalent about.
"I'm all for an investor going into a marketplace to fix up homes and put them up to code - something that the government hasn't been able to do," Gillespie says. "But if they're just going to try to steal a property, it's not the right thing to do."
"Besides," he says, "it's tricky. How do you know if you bought at the bottom? It's timing the market and, short-term, you can get burned."
As for vulture investing, Gillespie doesn't think that the once bubbly markets on both coasts offer much; prices are still just too high and rents, although strong, don't throw off enough cash to produce cash flow. Investors buying in most of these areas would have to rely on big price rises, something that may not be in the cards for a while.