The video site will keep its identity after its $1.65 billion sale to Google is complete, its CEO insists, but 'a lot [needs] to be figured out.'
(Fortune) -- One gets the feeling that Chad Hurley and Steve Chen, the youthful founders of YouTube, are truly enjoying their last moments of being relevant. When their $1.65-billion deal to sell YouTube to Google (Charts) is completed sometime before the end of the year, the dynamic duo will be transformed from belles of the media ball to the guys who got stinking rich for a year's-plus worth of work but now answer to Larry Page and Sergey Brin. Rather than leading a revolution, they'll be conducting an experiment into whether a company formed on community principles can survive within a bigger company that has a distinct culture all its own.
I chatted for a bit on Thursday afternoon with Hurley and Chen, now that they've had a few days to digest the impact of their life-changing transaction. Of the two, Chen is the straight-talker, but that's not surprising. His purview is technology. It's difficult to shuck and jive about bits and bytes. Hurley, on the other hand, just might go far in the corporate world, should he choose to stay there. As the CEO, he's an on-message kind of guy, the kind of executive who's comfortable (or at least effective) giving the same answer he's given scores of times already, no matter what question you ask him. As a result, what he says is well-coached and of limited value, a skill that should please his new masters to no end.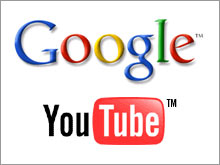 I ask, for example, how it feels to have hit the jackpot. Hurley, 29, and Chen, 28, each will be worth hundreds of millions of dollars when the deal closes. Hurley unloads a whopper worthy of the I-just-put-my-pants-on-one-leg-at-a-time malarkey from the classic baseball film Bull Durham. "I haven't really thought about it," he says. Really? "We've been really busy the last few months," Hurley continues. "We're just truly excited about helping people deal with video. It's more about having an opportunity to continue to innovate." And getting to play the game I love ...
Then there's the issue of YouTube's repeated protestations that it intends to remain independent. The two rolled their eyes with Fortune in August when the subject of their selling the company came up; on Sept. 23, Hurley told the Financial Times YouTube is "just going to continue building the business on our own."
So what changed? "We weren't looking to sell," says Hurley, adding his canned bits about how Google will allow YouTube to remain independent and that now the company will have more resources to accelerate its growth. That isn't what changed, of course. After a couple go-rounds of questioning, he allows that what's changed is that Google offered gobs of money and accepted YouTube's terms to keep its identity. What guarantee do he and Chen have that Google will keep its word? Their "wanting to preserve what we've done," he answers. (His able publicist, Julie Supan, chimes in that Google's "values" are YouTube's guarantee.)
Of interest to hard-core Google and online-video watchers is how YouTube will coexist with Google Video, the service inside the walls of the empire that YouTube thoroughly thrashed in the marketplace, necessitating this acquisition. According to Hurley, the two will remain completely separate properties.
"There's a lot of things that need to be figured out," says Hurley. "On our side nothing will change. If anything, our service will improve. They've built a great product. They'll decide how we fit in."
This will actually be interesting. Hurley says YouTube's integration into Google is yet to be determined. He says he doesn't know to whom he'll report or who Google's point person will be in dealing with YouTube. This from the guy who wasn't selling his company three weeks ago and who hasn't given a moment's thought to his newfound wealth.
On the subject of how long Hurley and Chen will stick around, Hurley is demonstrative: "Me and Steve are staying," he says. He won't say if he and Chen accepted earn-out provisions, a common technique when established companies buy fledgling ones. When Google bought dMarc Broadcasting in January, for example, it paid $102 million in cash and an additional $1.136 billion in payments contingent on performance over three years. (Hurley's demurral notwithstanding, Benjamin Schachter, an analyst with UBS, reported to clients earlier in the week that neither the founders nor their financial backers have an earnout provision.)
First as a private company and now as an arm of a public company, YouTube enjoys the luxury of reporting only the statistics it chooses to. Hurley divulges neither the percentage of videos on YouTube that use copyrighted music that doesn't belong to the video creator nor the number of takedown notices YouTube receives from entertainment companies. (Under federal law, YouTube is required to remove content at the request of its rightful owners but isn't obligated to do so proactively. Google, you might recall, tells book publishers it'd be happy to exclude their books from Google's book search results - if they ask. GooTube sounds like a beautiful relationship already.) Hurley, by the way, told the FT three weeks ago they "don't have numbers" on takedown notices. He told me he knows but isn't saying. Details, details.
One last detail left unsaid is how many YouTube videos are being viewed on a daily basis. On Feb. 27, when Fortune's Oliver Ryan spoke to the company, it was 25 million. By the time I met with Hurley and Chen in their San Mateo, Calif., loft office in mid-April it was 40 million. By June, the number had grown to "more than 100 million." Today? "We're sticking with the hundred-million number for now," says Supan. "We'll wait for the next big milestone." At that, Chen chimes in "Which is one billion," to hearty laughter all around. Should that happen, and if Google can figure out how to sell ads to only a small portion of YouTube's audience, this acquisition will prove to be a very good one indeed - whatever the roles of YouTube's exceedingly successful founders.
Time Warner to talk YouTube with Google
After YouTube: The beginning of the end?